The Nardio Review
Is it worth your time?
YES!
(Exclusive Developer Interview!)
What should I play it on?
Gravity Duck is a universal app for iOS 4.3 or later.  The game worked great on my iPhone and iPad, but as always I prefer gaming on the larger screen.
What did you think without spoiling it?
Buy this if you love platforming fun.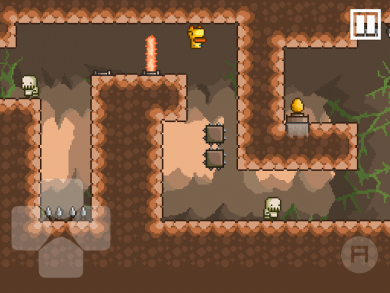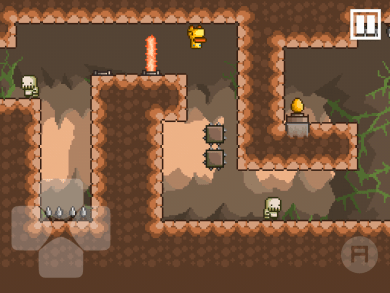 Gravity Duck starts off deceptively simple and then becomes much harder and super addictive.  All you have to do in this game is go from point A and get your golden egg at point B.  To get there though you need to use gravity.  Gravity Duck is Puzzle platforming genius on the iOS.  Fun fast gameplay with levels short enough that they don't feel tedious.

How does it play?
Perfect!  The controls Gravity Duck are spot on.  The graphics are more of Woblyware retro cute awesome and the music is just catchy enough to be stuck in your head a good bit after putting the game down.
Why it works:
Simple precise controls and genius level design make this a must have for anyone who loves platformers and wants something more than just the regular 2D adventure. The game ramps up the difficulty at a darned good pace and the levels never feel repetitive. The idea is so much fun that I actually enjoy going back and replaying the game.
No like?
Oddly sometimes the game doesn't want to launch.  Like a old car on a cold day you need to give it a few tries.  But then it works perfectly.
Wish list:
I'd like some more levels please.I would love to see a bigger sequel that lets go of the small levels and gives us much larger worlds to explore and fly around in.   The idea here is genius and I really hope to see it expanded on.
Basic Info:
1 player game.
Universal App
iCloud Support
iCade Support
.99 cents
6.0 MB
Tons of replay
Web links:
Published by: http://www.ravenousgames.com/
Developer Website: http://www.woblyware.com/
App Store: https://itunes.apple.com/us/app/gravity.duck/id599272198?mt=8
If you like this review be sure to check out the rest of our app reviews HERE!