The Nardio Review
Is Jack N' Jill Your Time?
YES! DOWNLOAD THIS NOW!
What Should I Play Jack N' Jill On?
Jack N' Jill is a universal app for iOS 4.3 or later and Android. You get the same great experience on all devices.  As always I prefer playing on the iPad.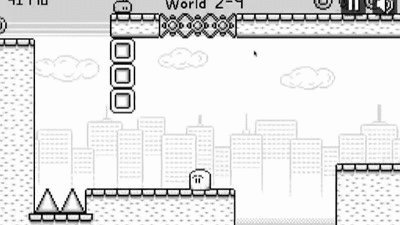 What Did We Think Without Spoiling It?
I love the app era of gaming. I have so many amazing games available to me it blows my mind.  Jack N' Jill is yet another amazing game that just wows me every time I pick it up.  Jack N' Jill is a one button platformer that is deliciously simple, addictive and tough. Best of all Jack N' Jill is free!!!!!!
Jack N' Jill is all about fast reflexes, memorization and the simple beauty that Rohan Narang has created.  When you download Jack N' Jill its totally free, but ad supported.  Ads appear over the top of the screen, but are never ever intrusive.  If you would like you can buy out of the ads for .99 cents.
I wholeheartedly recommend supporting the developer by buying out of the ads.
!!!DOWNLOAD THIS!!!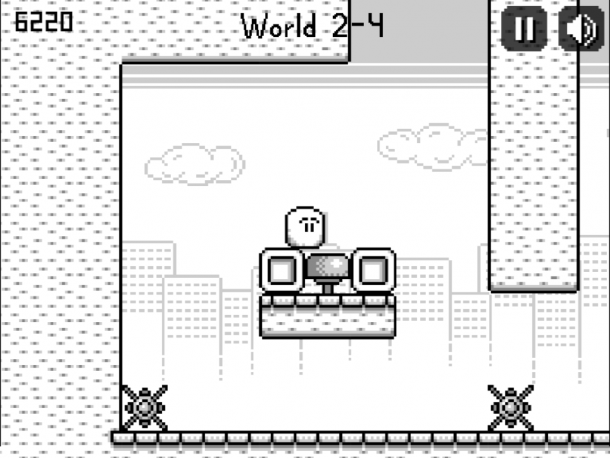 How it Plays and Why it Works:
Adorable monochrome pixel graphics and great music make this a game a blast to the past. Levels go from easy to hard, to take a break for a few minutes. The animation runs smoothly and Jack N' Jill never lags.  New mechanics are introduced as you progress, yet never gets complicated. The free ad supported system that Rohan Narang has implemented here works flawlessly.  Ads never disrupt the experience at all.  Best of all there are no pay walls whatsoever.
Jack N' Jill is just tight, platforming fun that is filled with tons of short levels with enough variety to keep you interested for a good long time.  Best of all the level sizes are perfect for pick-up-and-play gaming but still work for long gaming sessions.  Rohan has also been updating Jack N' Jill with content and fixes since its release.
 No Like?
Nothing at all. Jack N' Jill is an amazing experience from a developer who cares.
Agree? Disagree? Write your comments below
Read our other App Reviews
Basic Info:
FREE!!! on iOS
10.0  MB
Continuing developer updates and fixes
Buy out of Ads for .99 cents
Universal app
Lots of replay
Weblinks
Developer:  Rohan Narang