The Nardio Review
Is it worth your time?
YES
What should I play it on?
King Oddball plays perfectly on iPad, iPod touch and the iPhone iOS 5.0 and later. You get the same great experience with all devices. As always I prefer gaming on my iPad.
What did you think without spoiling it?
King Oddball has to be one of the most frustratingly addicting games I have ever played since Angry Birds.  This game is as much about physics and timing as it is about random luck.  You find out pretty early on the rock can be thrown the same way at the same target ten times and fly in 6 different directions. For some reason it's not a game breaker…It actually adds to the fun and excitement.  I find myself holding my breath as I throw rocks.  "Will I get it this time? What if I toss it this way? I HAVE to go to bed soon. ARRRG!"  The unpredictable nature of it makes King Oddball really fun and exciting. I very often found myself shouting with joy after beating a stage that was giving me a hard time. There are other times I end up beating a stage in some random, accidental way that just leaves me laughing with joy and relief.
For a new app, King Oddball is HUGE!  I haven't seen this much value in a new game since Angry Birds and Kingdom Rush.  Just when I thought I finished the game there is a whole other world to explore – The Mustache World!!!  Tons of stages to beat, two worlds to conquer, challenge maps, stats to track and no annoying stars to get all add up to one of the very best iOS games on the iPad.
Buy this.
Yes its $1.99, but it's totally worth the price.
How does it play?
Once you figure out that the game can be pretty random when it comes to explosion ricochet you tend to figure out how you want to toss the rock.  But the fun comes in the anticipation of what happens next.  I'm not going to lie, that rock can be pretty darn annoying when it wants to be.  If you've played Angry Birds you know what to expect here.
One interesting thing King Oddball has done is getting rid of the star scoring system that has plagued most apps.  It's fun, it's original and it's just about beating the stage.  1 rocks or 3, doesn't really matter.  The fun and challenge is just making it through.  Another interesting thing is there is no replaying the stages over again until you beat the game.  It's all about moving forward.  Honestly it works really well.  The longer you play the more fun things you unlock.  The challenge modes DEFINITELY bring replay into the mix.  Unlike the regular stages you can replay them as much as you want without bothering to beat the game.  The Grenade mode was really fun and One Rock Challenge is tough!
The art is really cute and simple. The backgrounds are adorable and the music is great. Another cute thing that I also find hilarious is sometimes King Oddball will give you a free toss by taking the pause button off the screen and using it as a rock.  That is a really nice touch. Thankfully the game is lag free and totally responsive.
Why it works: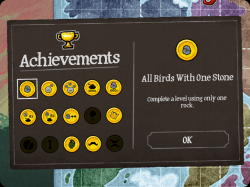 Take everything I wrote above and just know it has "it".  That unique feeling of challenging that borders on impossible, but it's always doable, and for some, sometimes bordering on masochistic reason, addictive.  I have to admit I put it down a few times and walked away out of frustration.  But something about it just keeps brining me back for more.  Every single time I beat a stage that was driving me crazy I was rewarded with this great feeling of accomplishment that you don't get from most games.  With so much content to do and replay value in this game It would be wrong not to have King Oddball  in your iOS library. 
I'm still working my way through the Mustache world.  I've been on this game over two weeks.  Yep, the fun and addiction  is still there.
No like?
The game doesn't get incrementally harder as you would expect it would. Instead it's  a random mix of "one-shot easy to "I wanna throw my iPad out of the window!""  Oddly it works.  When you see the smaller tank in the world map you know you are in for a challenge because usually those are the tough ones.  I just wish the physics were a little more consistent.  I say that knowing that the inconsistency is part of the appeal in the game.   Yes it sounds weird, but you have to play it to understand what I mean.  By then you are already hooked.
Basic Info:
Price: $1.99
Worth: Priced perfectly
1 player game.
3 Save Spots to use for multiple players.
67.2 MB
Universal App
Month's worth of replay value.
NO In-App Purchases!!!
Continuing developer support with fixes.
Child friendly. No violence, cussing, nudity, etc.
Weblinks:
https://itunes.apple.com/app/king-oddball/id553174450?mt=8
If you like this review be sure to check out the rest of our app reviews HERE!