The Nardio Review
Is it Worth Your Time?
No.
What Should I Play it On?
Magic Craft is available to play on all iOS 4.3 and later devices.  As always I prefer gaming on my iPad.
What Did You Think Without Spoiling it?
Magic Craft is a tower defense game that had the potential to be the next Kingdom Rush, but in the end it's not good enough to even finish.  Unfortunately you will encounter very cheap enemies and bosses that can only be downed by sheer luck.  Honestly I couldn't ever make it past level 15.  I've tried.  For weeks. There is a Ghost Boss that appears that is just unbeatable for me.  Either he is totally incorporeal, or materializes just enough to take a hit or two right in front of the castle.
After emailing the developer about the issue he offered me some advice on how to kill said boss…. Which didn't work.  When I emailed him again with a screen shot of the failing strategy I was told they were no longer making any patches for the game because they are working on the sequel.  This is a real shame because if it wasn't for the cheap boss and enemy mechanics the game was very fun and challenging.  But I don't see myself buying any apps from a developer who is fine with having a broken product on the market place.  After spending a few weeks with the game and being in contact with the developer, I say avoid.
How it plays and Why it fails: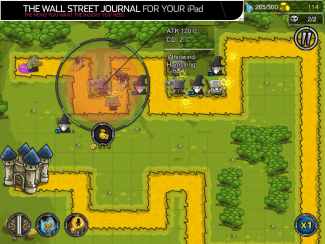 There are no tutorials for Magic Craft at all.  It's all about trial and error here and that's pretty weird for a Tower Defense game. The music is good.  The in-game art is good although a lot of it looks like it was copied out of Kingdom Rush. Unfortunately the ghost enemies are more about luck than skill. Sometimes you can kill them, sometimes you can freeze them.  Other times they will float right by all of your defenses and just make a fool of you.
The bosses are cheap because instead of needing a proper build and build order, it's mostly about using your in-game magic at just the right time to nuke them as they zip through your defenses. Zip doesn't even begin to cover how fast some of them move.  It's just cheap and, more often than not, it's luck that downs them, not your skill.
The ghost boss for me is just unkillable.  I have been trying for weeks.  I give up.
The interface for the most part works fine.  Progression was interesting for a while because you actually need to stop after you hit a difficulty wall and go back and complete the challenge modes on previous levels to earn more stars to upgrade your skills.  This is very close to Kingdom Rush in that regard.  Unfortunately, it doesn't have the same balance with its enemies as kingdom rush did.  The same can be said up the upgraded abilities.  They just aren't very reliable. Sometimes they pop up, most of the time you are just left hoping…
There is a free version of the game that is supported by ads and another that costs .99 cents.  So far I haven't had many issues with the Ad supported version. Knowing the developer is okay with having a broken game on the market is something I'm not okay with.  Magic Craft has the potential to be a really awesome TD game and I am hoping the developer gets it right for their second go.  I just don't see myself buying it. Why support a developer who doesn't care when there are so many struggling Devs who do?
Basic Info
Cost: Free Ad supported version or paid ad free for $.99
1 player game
3 Different environments.
48.5 MB
Weblinks:
Game Website –  http://www.oakgames.net/
App store Paid – https://itunes.apple.com/us/app/magic-craft-hero-fantasy-kingdom/id576341073?mt=8
App store Free – https://itunes.apple.com/us/app/magic-craft-hero-fantasy-kingdom/id579834455?mt=8