Mixer Weekend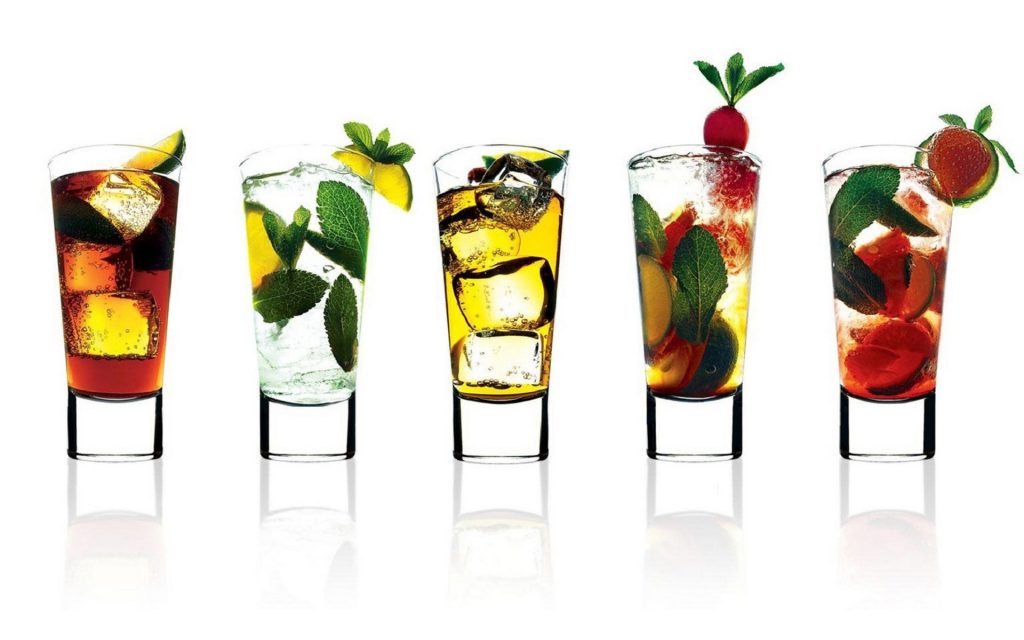 It's that time of year again. The weather is getting warmer and it's getting more humid. Summer is right around the corner, but the way the weather has been, it seems like it's already here! Why not cool off with some of these delicious summer cocktails. Great during rain or shine, guaranteed.
Rosemary Lemonade Fizz
I love mixing herb flavors into my cocktails and rosemary has got to be one my favorite herbs. The rosemary will give a nice freshness to this summer cocktail that might otherwise be boring. Great without booze as well!
Ingredients
1.5 oz of citrus vodka

1.5 oz of rosemary lemonade (recipe below)
splash of club soda
Equipment
Jigger

Ice
rosemary
sugar
pot
collins glass
lemon wedge or rosemary sprig for garnish
Directions for Rosemary Lemonade
Combine about 1 cup of sugar with 1 cup of water. Add in fresh rosemary sprigs and bring the mixture to boil. Lower heat to simmer and take off stove after 15 minutes. Set aside to cool.

Once the rosemary simple syrup has cooled, combine 1/4 cup of lemon juice with 1 1/2 cups of water. Add in rosemary simple syrup as necessary to taste, around 1/2 cup. Add more simple syrup to taste.
Directions 
Fill the collins glass with ice and then pour in the lemonade and vodka.

Top with club soda.
Optionally garnish the drink with a lemon wedge or left over rosemary sprig.
Sparkling Gin Greyhound
Technically speaking, the greyhound is made with Vodka, but let me tell you, Gin goes so much better with grapefruit. The juniper of the gin and the sour/bitter of the grapefruit juice just are perfect together for this super easy summer cocktail. We're not using actual grapefruit juice here, but grapefruit soda, preferably Pellegrino Pompelmo. It's wonderfully delicious. When it's hot outside, sometimes the simple drinks are the best.
Ingredients
1 can of Pellegrino Pompelmo soda

1.5 oz of gin
Equipment
Jigger

Collins glass
Ice
grapefruit peel garnish
Directions
Fill the collins glass with ice.

Pour in the gin then fill the glass with the Pompelmo soda.
Garnish with grapefruit peel
Minty Strawberry Daiquiri
What kind of summer cocktail list would I have if I didn't include the favored fruit of June, the Strawberry? Strawberry Daiquiris might not seem super exciting, but the addition of mint definitely kicks it up a notch. You can serve this drink frozen if you like, but this recipe is NOT for a frozen drink. And, personally, I like my daiquiris on the rocks.
Ingredients
1.5 strawberries

5 mint leaves
1.5 oz of white rum
2 lime wedges
0.75 oz of simple syrup
Equipment
Jigger

Muddler
Cocktail shaker
Cocktail strainer
Ice
Highball glass
Lime garnish or mint sprig garnish
Directions
In the cocktail shaker add in the strawberries, lime wedges and mint. Muddle well until the strawberries do not have a solid shape around 5 seconds.

Combine the simple syrup and rum into cocktail shaker. Top with ice and close the shaker. Shake vigorously for 10-15 seconds.
Fill the high ball with ice. Strain the contents of the shaker into the glass.
Garnish with lime wedge or mint sprig.
Like these drinks? Write your comments below!
Want more drinks? Check out the rest of our cocktail recipes.