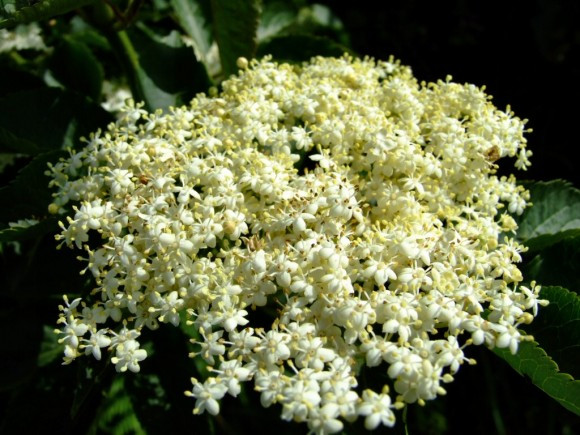 Elderflowers are these cute white flowers that grow in bunches. They can be found pretty much everywhere in Europe, Northwest Africa and Southwest Asia. The flowers are very cute and smell of honey, so it's no surprise that eldflower liqueur like St. Germain are becoming the hit mixer. It's sweet, delicate yet imparts a very distinctive flavor to almost any drink.
French 54
So some of you may have heard of the French 75, but where I used to work, instead of the traditional gin, lemon combination, we used St. Germain. It's a lot easier for most people to drink and it'll complement the sparkling wine perfectly.
Ingredients
4 oz sparkling wine or champagne
0.5 oz St. Germain
Equipment
Champagne flute
jigger
lemon or lime twist as a garnish
Directions
Fill the champagne flute with the proper measurement of sparkling wine
Top with St. Germain
Garnish with a lemon or lime twist.
Ruby Red Flower
If you don't like grapefruit then this probably isn't the best cocktail for you. If you do, though, this is a delicious and refreshing drink. The tanginess and bitterness of the grapefruit really go well with the floral notes from the St. Germain and gin. definitely a winning combination.
Ingredients
1.5 oz gin
1 oz St. Germain
1 oz grapefruit juice
Equipment
Jigger
Cocktail shaker
Ice
Martini glass
Lemon twist garnish
Strainer
Directions
Fill the cocktail shaker full of ice.
Pour all ingredients into the shaker.
Put top back on cocktail shaker and shake for 20 seconds.
Strain into martini glass.
Garnish with lemon twist and Enjoy.
Marguerite
You've heard of the margarita, but why not try the Marguerite, the french version of the drink. Ok, so maybe there's no such thing, and maybe we still use tequila, but most of the ingredients are french. That counts…right?
Ingredients
1.5 oz of white tequila
0.5 oz of lime juice
0.5 oz of simple syrup
0.5 oz St. Germain
0.75 oz of Grand Marnier
A splash of orange juice
Equipment
Jigger
Cocktail shaker
Ice
Rocks glass
Lime wedge garnish
Directions
Put all liquid ingredients into the shaker
Top with ice. Securely put the top back no the shaker.
Shake for 20 seconds.
Pour all contents into rocks glass.
Garnish with lime wedge.