The Nardio Review
Is it Worth Your Time?
YES!
What Should I Play it On?
My Mini Castle is a universal app that is perfect for all devices. The clean graphics and simple pick up and play gameplay is at home on your phone as it is on your iPad. Just get this.
What Did You Think Without Spoiling it? 
My Mini Castle is a fun, simple defense game for the iOS that has a whole lot of replay value. All you have to do is throw fruit at enemy blobs to unlock new gameplay areas, upgrades and hats. The best part? It's free! There's no fancy graphics here, just fun gameplay with good humor and tons to do.
In My Mini Castle you are able to unlock several increasingly challenging levels as well as upgrades to help you out along the way. It's a sort of pick up and play experience best enjoyed in multiple sittings. My Mini Castle has In-App Purchases, but you never need them. I do suggest spending a dollar at least to help out this awesome developer.
You don't need to buy anything, but I do recommend supporting this developer with in app purchases.
How Does it Play?
Seriously perfect. The controls are responsive. The crisp pixel art totally goes with the tone of the game. The soundtrack is also, thankfully, enjoyable. To top it all off Mr. Peng is just funny. The lines he says while defending his castle will keep you chuckling. What really shines here is the gameplay. There's really a sense of progression here when you unlock the upgrades. New fruits and vegetables add depth to the simple combat.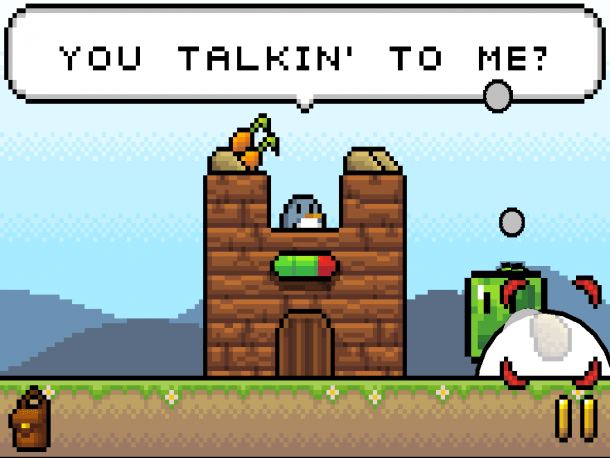 Why it Works:
Real upgrades that give you a sense of progression, fast gameplay perfect for short gaming sessions and a good amount of light hearted humor. This is a game for young kids and old gamers alike. Best of all, it's bug free and FREE!  There is no reason whatsoever not to have My Mini Castle in your iOS library.  Just get this.
No Like?
Nothing.
Basic Info:
Free
Universal App
Unlockable Content
Tons of replay
1 player
11.7 MB
In-App Purchases
Game Website:  http://myminicastle.blogspot.com/
App Store: https://itunes.apple.com/us/app/my-mini-castle/id670631444?mt=8