The Nardio Review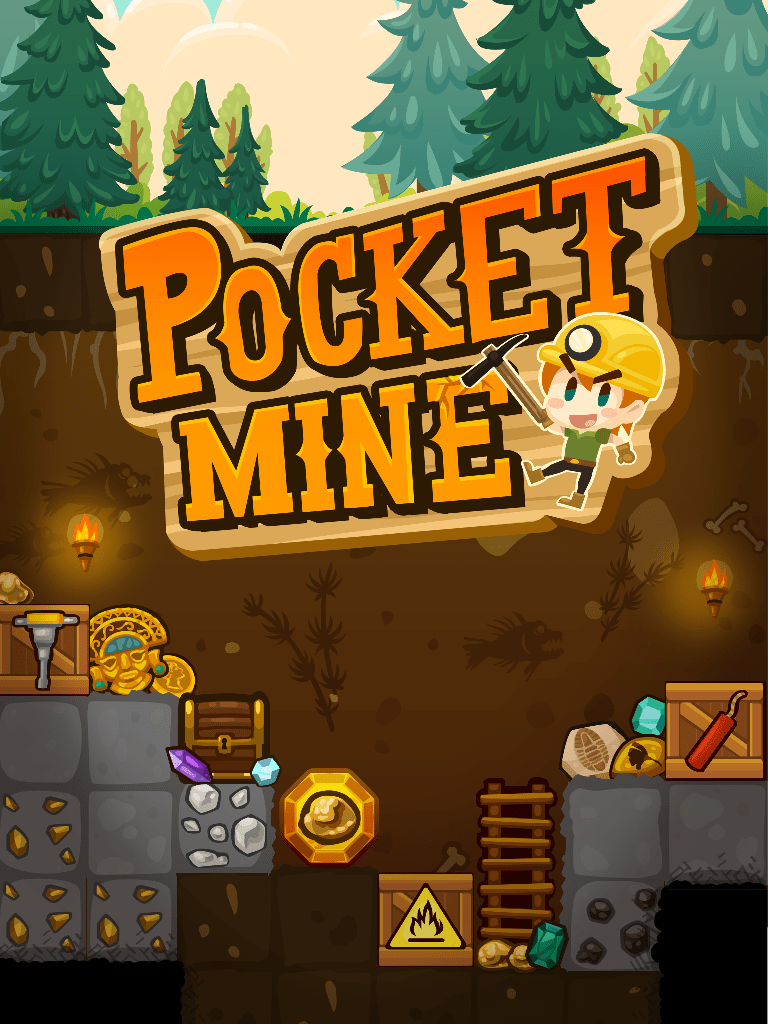 Is Pocket Mine Worth Your Time?
Yes. A thousand times yes!
What Should I Play It On?
Pocket Mine is an universal app for the iOS 5.1 or above. You get the same great experience on all devices, but I prefer playing on the iPad.
What Did You Think Without Spoiling It?
Pocket Mine is perhaps one of the most addicting games I've played on the iOS since Angry Birds. The best part? It's FREE! Yes, that's right. You get hours of entertainment for free. Sure you can spend a couple bucks like I did and support this awesome developer, but it's not necessary. It's a super simple game that you can easily pick up and play for a couple minutes. There's no real point to this game besides upgrading your pick so that you can mine deeper.
How it Plays and Why it Works: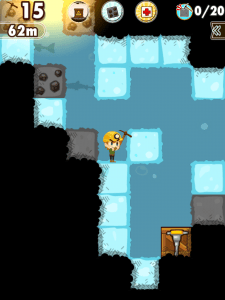 The controls in Pocket Mine are simple and spot on. All you have to do is click where you want to
mine and your little character will destroy a square. Click on an open space to move your character. You'll notice as you play longer that you'll run into gray squares that will take two hits to destroy and brown, squiggly squares that you cannot destroy with your normal pick. It really adds to the game and makes you think about your next move. As you progress through the game you'll earn money to upgrade how many times you can use your pick, gain special cards that will help you in your mining adventures and even find treasure that you can trade in for cards or rubies. It's a super simple game and yet it's strangely addicting.
There's this feeling of progression each time you level up your pick. You want to see how much deeper you can go each time. So far, my record is 274 meters. You can also challenge your GameCenter friends to beat your score, though there's no actual versus mode. When your pick runs out of durability you can spend some rubies to keep going or you can just give up and collect your reward. Either way, each game never lasts too long. You have up to 5 times that you can play consecutively, which doesn't sound like a lot. Luckily, every time you level up your charge refills. Not only that, but you also earn a new Booster card. Booster cards help you on your runs by providing you with more power-ups. Until around level 10 you probably won't ever have to worry about running out of charge After 10 though, it takes a lot longer to level so you'll have to wait. Or you can spend some rubies to get extra charge. You can also spend $1.99 to permanently upgrade your charge from 5 to 8.
There are definitely ways that you can spend real money in-game, but the best part is that it's totally optional. You can purchase money and rubies as well, but you can easily make money in-game. If you're waiting for your charge to refill, you can watch some videos and earn some money and even rubies. You can watch a LOT in a day so it's an easy way to earn money to upgrade your pick. The rubies seem like a pretty rare find, but you don't really need them.
Speaking of maps, there are at least 5 different random environments. It doesn't really change the gameplay or difficulty at all, but it's a nice touch. I'm also not one to really harp on music, but Pocket Mine has an amazing soundtrack courtesy of Big Giant Circle. The animations are also simple, yet effective. I love that when the miner loses his axe, he uselessly kicks the dirt squares. The art in general isn't detailed, but it's bright and clean. Plus, there's explosions. Lots of fun explosions thanks to a whole lot of fun power-ups you'll find as you dig your way down. You'll also find some treasures chests that you'll need keys to open. You gain keys by completing various objectives like collect 10 pieces of gold or use 5 grenade power-ups. Different chests require different amounts of keys, the most being 9 keys.
No Like?
There have been a lot of times when I accidentally spend a gem to continue my run on a particular map. It's just placed in such a way that it's way too easy to accidentally hit and there's no confirmation screen so you have no option but to spend the rubies. I also had the same issue when looking at how rubies it costs to purchase treasure chest keys. I tried scrolling down and accidentally used my rubies to purchase 5 keys. This definitely seems like a ploy to get you to use your rubies, which is kind of cheap honestly.
In Conclusion
Overall, Pocket Mine is an enjoyable game. I highly suggest buying some in-app purchases to support this developer.
Agree? Disagree? Write your comments below
Read our other App Reviews
Basic Info:
Free on iOS
44.3 MB
universal app
Rated 4+
Weblinks
Developer: Roofdog Games
Get Pocket Mine in the iTunes store