Nardio Review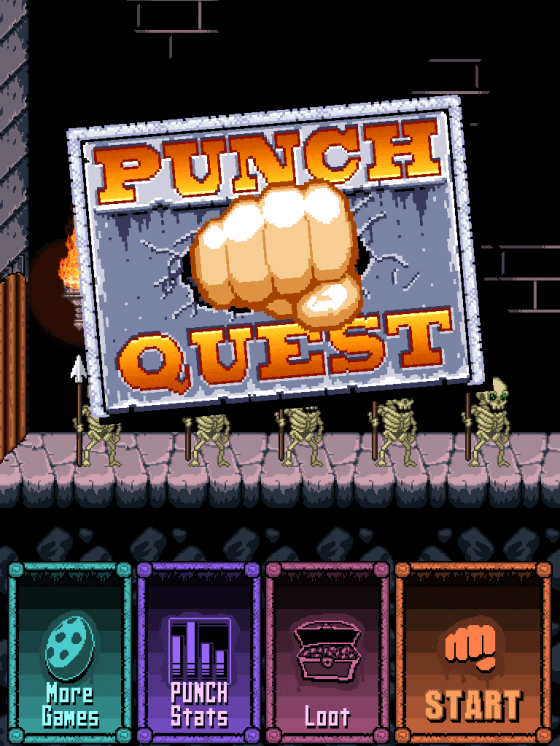 Is it worth your time?
No.
What should I play it on?
Avoid Punch Quest as long as it's not free.  If you are going to play it, I recommend doing so on an iPad.
What did you think without spoiling it?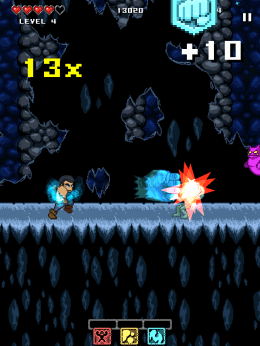 Punch Quest is a side scrolling endless runner.  The trick here is you need to punch to move and uppercut to jump, so its sorta like an endless puncher (lots of tapping).  The point of the game is go as far as possible taking out everything in your path.  Killing baddies and destroying objects earns you currency you can use to buy special moves, hats, and ways to make the game slightly different. Trouble is it's really hard to earn currency. The drop rate is very bad.
Punch Quest is like an old coin eating arcade game that seems fun at first, but it isn't after 5 minutes & three bucks that you realize there isn't much to the game and it's almost impossible to get far in it thanks to the many, many cheap deaths awaiting you. It's fun every once and a while, but it has no long lasting value.  This wasn't much of a big deal when the game was free, but now Punch Quest costs one dollar.  For a game that makes it so hard to get in game currency for upgrades, pushes its store and gets repetitive fast, I think it costs 1 dollar too much.  This should have stayed Freemium.
How does it play & Why it fails:
The controls are ok, but the gameplay is cheap and redundant.  The longer you play the more often you will encounter groups of bad guys who are stacked together in such a way that you cannot get past without taking damage.  This is pretty frustrating considering I unlocked food that should heal me, I just never see it drop.  I feel like you just aren't meant to make it very far. The punching power ups are fun but they don't last very long to be useful. You don't ever get a sense of progression in the game thanks to the areas looking the same.  The egg transformations are fun for a minute, but the one hit and its over aspect of them sucks especially given how cheap the areas you get to play with them are.Punch Quest seemed like a good deal when it was free, but now it's just another paid app game that pushes you way too hard towards the in game app store without giving you enough substance in return for your initial investment.  There are lots of games out there that costs .99 cents that give you way more than this.   Even as a free game this was growing old for me very fast.  As long as Rocketcat Games wants to charge a dollar for a game designed to be Freemium I say, Avoid Punch Quest.
Basic Info:
Price: .99 cents or Free.  It keeps going back and fourth.
Worth: Freemium should be Free.
13.6 MB
1 player game.
One save slot
Web links:
Developer: http://www.rocketcat-games.com/
Website: http://www.punchquest.com/
Apple App Store: https://itunes.apple.com/us/app/punch-quest/id554223561?mt=8