The Nardio Review
Is Racing Fever worth your time?
Yes!
What should you play it on?
I think Racing Fever is best played and appreciated on a tablet. The graphics, while not mind blowing are great on the bigger screen.  You really also want to be able to see every tight turn.
What did we think without spoiling it?
I love Racing Fever.  It's a driving/racing game that just lets you enjoy the ride. There are some different tracks and modes, but nothing to complicated that takes you out of the driving experience.  The better you drive the more money you get.  The more money you get the more you can upgrade your car and more cars you can buy.  That's it.
Racing Fever is a Freemium game that a lot of content.  The only problem I have with it is that I can't buy out of ads.  Thankfully Racing Fever's ads aren't bad.  About every three or so losses you have to watch a video ad or have an interstitial ad pop up.  You don't have to sit through the whole ad, but you can if you are like me and want to support the dev.  You can also buy coins to speed up buying the "better" cars.  Here is the thing though, you don't need them.  Sure it's nice to be able to work towards something or buy it for cash to help the developer.  For me though, the early cars are more than good enough to enjoy picking up the game and playing for a half hour to an hour at a time.  It's relaxing and fun. What more can you ask of a game?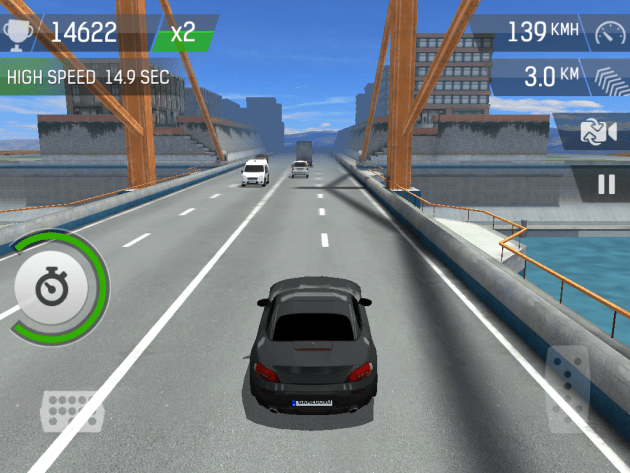 How Racing Fever plays & why it works:
Racing Fever plays perfectly.
Racing Fever has no lag or control problems at all. It's controls are fast and smooth and you lose in a cheap way. The music is relaxing but fitting. The graphics are good.  Not great, but for a game that I have spent way to much time on, it's good enough.
One interesting thing about this game is Racing Fever is it's not forgiving at all when it comes to colliding with other vehicles. Doing so ends your runs most of the time. To help you with the tight traffic you will inevitably encounter there is a slow time button that also changes the camera angle.  This is a huge help and makes the game runs last much longer.
I mentioned before Racing Fever is a freemium game so expect to deal with some ads.  It's not that bad, but I wish I were able to buy out. Thankfully no ads run or pop up during play.
I really hope Gameguru makes a sequel to this. I can't wait to see what else they can do with racing games.  I'd also really love to play this on the new Apple TV when it launches soon.
Just get this game.
I recommend supporting this developer with in app purchases.
Wish List: 
Please let me buy out of ads!
Be on Apple TV!
 Basic Info:
Free!
93.4 MB
1 player game.
In app purchases
Great replay value.
Web links:
Developer: Gameguru