The Nardio Review
Is it Worth Your Time?
YES!
What Should I Play it On?
Redline Rush is a universal app for iOS 4.3 or later. Honestly, I can't imagine wanting to play this on a smaller screen than an iPad.  It really just works so perfectly on the big screen I haven't bothered to install it on my phone.
What Did You Think Without Spoiling it?
Redline Rush is the best casual racing game on the iOS.
JUST BUY IT!
Full disclosure: I love this game. I stumbled across Redline Rush a little while ago and have completely fallen in love with it. Heck, I've been too busy playing this game to spend time doing reviews for Nardio. Redline Rush's gameplay is just that good.  It has console level graphics, perfectly tight controls and an insanely fun soundtrack making it a must have for any and every iOS device that can support it.
The fact that Redline Rush is only .99 cents blows my mind. There are in app purchases here but not the bad kind. I have unlocked everything just by playing as I normally would. But honestly after my tenth or twentieth hour I just had to hand over some extra money to Dogbyte Games to thank them. Again you don't need to buy anything, but I do recommend supporting this developer with in app purchases.
How Does it Play?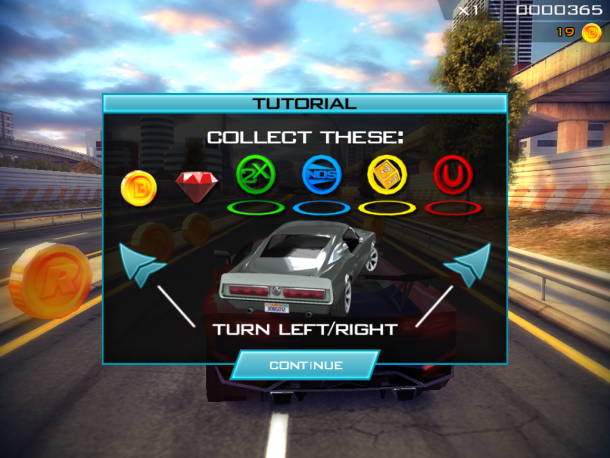 Seriously perfect.  The controls are perfectly responsive. If they aren't for you, don't worry because there is a second control scheme you can use.  Honestly, I cannot imagine anyone needing anything other than the default setting.  The graphics are flawless.  Like seriously.  I love the animations, the sense of speed and the incredibly fun crashes. There's plenty of madness going on, but you can always see what is ahead and there is never any lag. The tutorial is perfect. The leveling challenges offer up extra reasons to keep playing and unlocking the level three cars are just the motivation to just keep playing and playing. Even then there are two tracks to unlock and secret cars that are offered randomly for sale at insane prices so race a lot and save up.  They are totally worth the effort.
Why it Works:
Redline Rush is endless racing done right.  Meaningful upgrades, perfectly tuned gameplay and a perfectly immersive experience that just begs for one more try.
There is a ton of depth to Redline Rush from  learning just how to control your car takes time to learning just the right way to take down cars for points. Soon you will be racking up thousands of coins per run and going out in a fiery blaze of glory. You will be zooming through leveling and earning more gold than you could have imagined.
The best part is the one time use boosts are useful and perfectly implemented. You will find yourself using all that extra gold to stock up on shields and Sonic Attacks to help your runs go on and on and on.  You even have the option to buy your way out of missions if you so choose.  The prices to do so aren't bad, but there is never a reason to. Every single mission is doable. The even crazier awesome part is if you don't want to buy boosts you never ever have to.  You collect boosts easily in races in yellow boxes that you get very, very often.
There isn't a single part of Redline Rush that seems like a cash grab.  Dogbyte Games did a perfect job implementing app purchases into this game. 
No Like?
Nothing.
Wish List:
New earlier and later levels to race through.
New cars
Basic Info:
Cost: $.99
Universal App
Unlockable content
Two control options.
TONS OF REPLAY
1 player
Only 49 MB
Web links:
Game Website –  http://www.dogbytegames.com/
App store – https://itunes.apple.com/us/app/redline-rush/id616027251?mt=8
If you like this review be sure to check out the rest of our app reviews HERE!