A little while ago I stumbled across a hidden gem in the app store – Jack n' Jill. Before I knew it, I found myself helplessly addicted to it and could barely tear myself away to write a review. Once I got that out of the way, I just jumped right back in. I enjoyed the game so much, I kept in contact with the developer Rohan Narang. I would bug him from time to time to find out when I could play his next game. After releasing the fun Zie Invades Earth I decided to get an interview from this insanely talented developer. I have to say this is our best game developer interview yet!
Honestly, I didn't think it was possible, but my respect for Rohan is even higher now. I can only hope that this interview catches on and Rohan Narang becomes a household name for the inde development community.
Enjoy the interview!
Rohan Narang interview: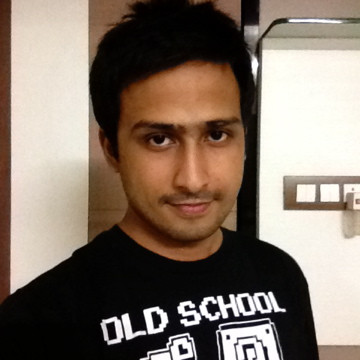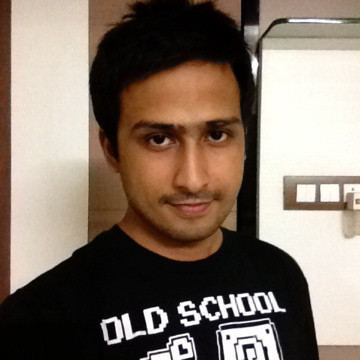 Hi Rohan can you tell us about yourself?
I'm a lone indie game developer living in a small town in India. I've been making mobile games since late 2010, which was shortly after I finished my Bachelor's Degree in Computer Engineering. Like most game developers, I enjoy playing video games a lot. My other interests are listening to and playing music, astronomy and to a lesser degree watching movies.
What inspired you to jump into the gaming industry and how did you get started?
As a kid, I always loved playing video games, but this rarely ever extended into a curiosity about how games were made. Even in college, I was a mediocre programmer at best and was mostly oblivious to the fact that the games I would play on my PC were programmed using a lot of stuff that I was being taught. It wasn't until the 3rd year of college, when I had taken a computer graphics course, that this realization hit me and opened up a whole new can of worms. I started teaching myself tools like Adobe's Flash and game development libraries like SDL and Pygame and making simple clones of Pong, Tetris etc. using those tools. A few months of indecision and some unsuccessful job interviews after finishing my college, I downloaded the Android SDK and decided that I would jump into game development on my own along with the help of some online resources.

Any ideas for a company name?
None as of now, but I'm open to suggestions!
Do you use a game engine to make your games?
I use my own custom made C++ game library that I've ported over to all the platforms my games exist on. I've often debated with myself about using a game engine like Unity, or GameMaker, but I haven't made the switch yet and don't plan to as of now. The other tools I use for asset creation include Gimp, Inkscape, TuxGuitar, Garageband and Bfxr.
What advice would you give to someone wanting to get into the gaming industry?
The competition is really fierce and it is really difficult to stand out, but don't let this stop you. Make games because you love them and not because you want to get rich or be famous. Try to deliver a fun and unique experience for your audience and let that be your measure for success.
How do you feel about the recent popularity and proliferation of schools for game development? 
I was actually planning on doing a Game Development Master's Degree course in a university in the UK after I finished college, but that did not work out for me. Looking back, I don't think that a game development course is necessary to develop and publish your own game. It has never been easier to make a game and share it with the world than it is today. If you're truly interested you can and will figure out a way. That said, I imagine there might be a few areas where such courses could provide an edge to the students. For one, they do allow you to connect with like minded people more easily.
What inspires you while making your games? 
A lot of my inspiration comes from the games that I've played and enjoyed over the years. For example, my very first cartridge for the Game Boy Color was Game & Watch Gallery 2, which is the inspiration behind Zie Invades Earth. Similarly, Jack N' Jill also has been inspired by Gameboy games like Super Mario Land and Kirby's Dreamland. I try to take the things I enjoy about these classics and express them in my own way, in my games.
Can you tell us a bit about Jack N' Jill & Zie Invades Earth and the thought process behind them, funny stories, etc.?
I never expected Jack N' Jill to become as popular as it did. I was just having fun experimenting with the different kinds of actions I could make the character perform with only a single input. It was also my first project with pixel art graphics. Prior to this all my art was made in Inkscape and exported as a bitmap. I was quite fortunate that this game turned out to be something that people enjoy.
Zie Invades Earth was another step up for me in terms of creating graphics assets. This time I added characters that were more human and with more refined animations. The game itself though, is very simple and intended to be played when you want to relax or zone out for a few minutes.
Fun Facts about Jack N' Jill:
1) There are many alternate ways to finish some levels in the game. Someone has even made a youtube video about that
2) There is a weird little bug on the iOS 7 version which completely garbles and messes up the graphics of the game sometimes and I still haven't figured out the cause. This bug has never been reported on any other platform including iOS 5, 6 and 8.
What are some of the most challenging things about making games for you?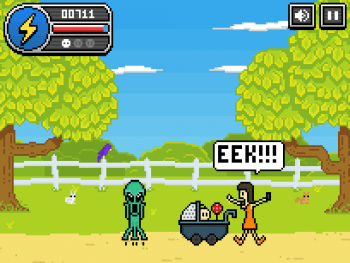 Since I come from a programming background, asset creation is the most challenging part of game development for me. That is why my art style is centered around simplicity. I use simple shapes and figures to design my characters, which as a consequence allows me to keep the animations simple as well. I put in a lot of time and effort in making all my graphics and there is a lot of scrapping and recreating involved.
I have a similar approach towards composing music for my game. I've been playing the guitar as a hobby since a few years now and it has definitely helped me in my work. I note down all my musical ideas in an open source guitar tabulation software called TuxGuitar. The software allows me to export these compositions into midi files which I then import into GarageBand to create the final mix that is used in my games. I am not sure about how other developers create their music, but this is a process that has worked well for me so far.
The other challenging aspect for me is coming up with an idea that is worth the time and effort to develop it. It can be quite confusing to make a judgment if one should continue developing a prototype into a complete game. An incorrect decision at this stage could well mean that you're stuck developing a game that isn't as fun as you'd like, but cannot scrap because of the sheer amount of time and energy you've invested in it. That really isn't a good place to be in. If you cannot enjoy making your game, it's difficult to expect people to have fun playing it.
How does it feel when you start looking up reviews on your games? 
It is always interesting to read what people think about your work. It is quite rewarding to know that people not only spent time to play your game, but also took the effort to write about it and share their experience with the world. Sometimes they don't have the most flattering things to say about it, but I try my best to look beyond that and find the core issues and their problems with it. After all, criticism is the only way one can improve at what they do.
How do you feel about the digital distribution stores like Steam and iOS App Store? 
Stores like Steam and the iOS App Store have contributed to the indie scene immensely. They havechanged the gaming industry for the better. I probably wouldn't be developing games on my own if the iOS App Store and the Google Play Store did not exist. On the other hand we've also seen the rise of the notorious freemium model, so there will be some people who might disagree.
What improvements do you think can be made to improve the iOS app store?
I believe that it was easier to discover apps in the App Store for iOS 5 than it is now. A redesign of the search results layout to better use the real estate of the device screens would benefit a lot of small and unknown developers.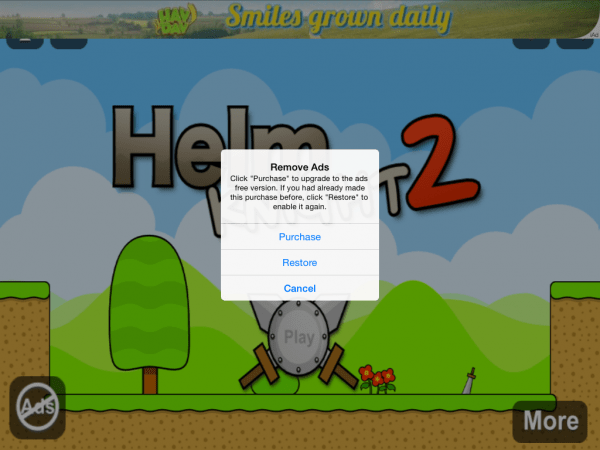 How do you feel about in-app purchases & Freemium gaming? 
I believe that there are right ways and wrong ways to implement In app purchases. The way most freemium games are made is a real put off. In game items are set at ridiculously high prices, such that the only reasonable way to get them is to pour real money into it. That is not the way to go.
In my opinion, the right way to implement in app purchases is to sell the right kind of content, (like level packs) to the player. You can have a free game with a limited amount of playable content and then provide a few in app purchases to the player with more playable content and added perks depending on how much they decide to pay you. Sort of a free trial with upgrades to a full version along with some bonus content.
How worried are you about other developers cloning your work?
I used to worry about this quite a lot initially when I was starting out. Right now I have a different view of it. It has been hard to get people to pay attention to my games. In such a situation, if someone is cloning your work then you know that you're probably doing something right.
Any thoughts on the evolution of mobile gaming and its effects on the larger game industry? 
While I don't think that tablet / phone gaming has affected the traditional PC / Console AAA gaming much, I believe it has made gaming more mainstream (both for developers and users) than it ever was. The barrier to entry for new developers has never been lower. The simplicity and the ease of use of modern touch screen devices has changed games to be more accessible to even the non gaming crowd. Slowly but surely we're seeing bigger budget games with almost console quality graphics come out on these platforms. Who knows, maybe we might soon see full fledged AAA games coming out on these devices in the next few years.
What are your thoughts on the next gen consoles and what they mean for the gaming and media entertainment as a whole? Which one are you most excited about? 
I am not much of a console person and most of my time is spent working on my game development. However, I am very much intrigued by the PS4 and the Wii U and their respective library of games, but if I had to buy a new console it would probably be a 3DS. The talk of the Steam box in the gaming media has also regularly grabbed my attention and it would be interesting to see what that platform does. There has also been some speculation that Linux can become the new PC gaming platform courtesy of the Steam box and Steam OS. It will be interesting to see how that plays out.
While it may seem tempting to dismiss the idea of dedicated gaming consoles as becoming obsolete, like some people would like to suggest, I would disagree with that strongly. The games that come out on the PC and the consoles are geared toward a more serious gaming crowd and deliver more deep and complex experiences than mobile devices can provide at this point. Even a portable console like the Nintendo 3DS or PSVita provides a vastly different experience than you might get with an iOS device. Gaming consoles still have a prominent place in the industry. As long as there is a divide between the way games are on PC/Consoles and on mobile devices, consoles will be more than just relevant.
What was the first game you can remember playing that just wowed you? Have any games recently blown your mind? 
One of the first games that really blew me away as a child was Prince of Persia from the DOS era. That game along with Commander Keen and Wolfenstein 3D are still are some of my favorites to this day. I also enjoyed playing a lot of Nintendo games like Super Mario and Legend of Zelda as a kid.
The most recent game that I've been highly impressed by is Monument Valley. The blend of the art, music and level design in that game is beautiful to put it simply. I see the experience delivered by this game as an example of what a game developer should strive to achieve in their work.
What types of games do you normally like to play? 
While I enjoy playing most kinds of games, I have put in a lot of time into RPGs: Skyrim, Oblivion, Fallout 3, Dragon Age: Origins to name a few. I am also a fan of the older entries of the Final Fantasy series. These days I am playing an SRPG called Tactics Ogre on the PSP. From time to time, I also revisit some of the old DOS and Gameboy games I enjoyed playing as a kid.
What mobile game would you recommend to someone who has never played any before? 
I would probably recommend something like Angry Birds, or Cut the Rope. These two games are one of the most popular mobile titles out there and with good reason. They demand very simple and intuitive input actions from the user and in exchange provide feedback of great quality. I've tried to apply a similar approach in my games Jack N' Jill and Zie Invades Earth and I feel that this is a good philosophy to follow for developing mobile games.
What sorts of mobile games do you enjoy?
Lately I've been playing a bit of Timberman, Crossy Road and Infinity Blade 2 on my mobile devices. Monument Valley though has to be one of my all time favorites.
Can you tell us about your love of music?
It wasn't until after I finished my school that my interest in music grew and eventually extended into wanting to learn an instrument. The guitar is my instrument of choice as I enjoy listening to a lot of guitar music. The genre doesn't really matter much if I like what I'm hearing. It could be classical, acoustic, jazz, rock, post rock or any kind of metal.
I also enjoy a lot of video game music. Some of my favorite tracks are from game series like Mass Effect, Final Fantasy and Elder Scrolls. I also enjoy chip tune tracks from older versions of games like Legend of Zelda and Kirby and they've played a huge part in inspiring my game development as well.

What do you do for fun and or to de-stress? 
I listen to music and play the guitar to de-stress. I also like to just lay under a clear night sky with a pair of binoculars and look for interesting sights that it has to offer. It is always good to get away from all the games and devices from time to time.
What is your favorite comfort food?
Pizza!
What is the best show you are currently watching? 
No shows, but a lot of pro wrestling lately, haha!
Best book/comic/manga you are reading?
Right now I'm reading Apple's "Swift Programming Language" which is available for free on iBooks.
What gadgets can't you live without? 
My Macbook. All my game development is done on this device.
As an indie dev how hard is it to get the word out about your new games?
It is surprisingly hard. There are a lot of people out there making games and it is getting harder to stand out from the crowd. On the flip side there is also a growing audience for games, so it's not as bad as it might seem. In my opinion, the best way to market your game is to develop it in such a way that it compels your users to show it off proudly to their friends and family. That is, however, easier said than done.
How do you feel about gaming media these days?
Much like in the development side of the industry, I think we've seen a rise of "indies" in the media side as well and I view this as a good thing. While the big websites like IGN and Gamespot still exist many people like to get their gaming news and opinions from other alternative sources like their favorite youtubers or gaming blogs. A lot of new games are being discovered by people on youtube and twitch where other gamers post videos of themselves playing these games. It is like visiting a friend's house and seeing them play this cool new game they bought recently. In my opinion, the bigger media outlets fail to capture this kind of a laid back, casual approach and as a consequence we're seeing some healthy competition here.

Can you tell us a bit about what you are working on now?
I have a few ideas in my mind, which still need to be fleshed out. One of them is for a rhythm based game and another is for a retro beat 'em up inspired by double dragon. Right now I'm making some art to figure out the concept and theme for these ideas. I'm also planning on updating my game development library so that I can port my games to different platforms more efficiently. When I have more substantial information to share about a new game, Nardio.net will definitely be one of the first to know!
How does it feel to be an accomplished developer? How do you feel about yourself as a game dev?
I am very happy that I can call myself an indie game developer. I've received a lot of support from my family and friends which has helped me immensely in this endeavor. Although I do often worry about my future as an independent developer, for now I am just having fun doing what I like. It is really rewarding to know that people enjoy my work!
Anything you want to learn or try next?
As far as game development is concerned, I want to continue evolving by learning new things and improving the way I make games. I would like my games to have more detail and depth in terms of story line, characters and gameplay. Aside from game development, I have been looking to buy a telescope and get more seriously into astronomy for a while now. Hopefully, I can do that soon as well!