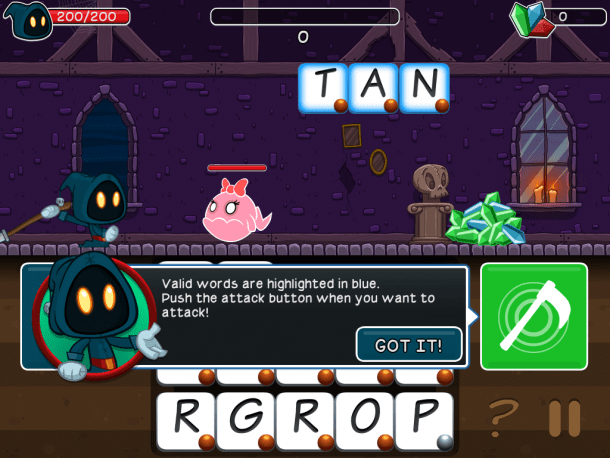 The Nardio Review
Is Letter Quest: Grimm's Journey Worth Your Time?
YES! YES! YES! DOWNLOAD THIS NOW!
What Should I Play It On?
Letter Quest: Grimm's Journey is a universal app for iOS 4.3 or later and Google Play. You get the same great experience on all devices.  As always I prefer playing on the iPad.
What Did We Think Without Spoiling It?
Ok… I'm gonna gush. I love Letter Quest: Grimm's Journey.  The best part is so does my fiancée.  The minute I downloaded it we spent the better part of a day and a half  playing it non-stop until we beat everything.  This is the first time she helped me 100% on a game before.
Letter Quest is unputdownable.
Ok, ok so back to what Letter Quest actually is.  Letter Quest: Grimm's Journey is a spelling adventure that has you battling with spelling.  You choose letters on a three by five grid to make a word then hit the attack button and BAM, you hit a baddie.
With plenty of content available, more on the way and the price tag at an astonishing free, I can't help but wholeheartedly recommend Letter Quest to any and everyone.
There are in app purchases and surprisingly you don't ever need them. Ever.
I bought the coin doubler at about three hours in just to support the developer and to make farming that much faster for Jasmine.  Again this was a personal choice that only cost me two bucks.  Considering how much we love Letter Quest it was two bucks well spent.  I wholeheartedly recommend supporting Bacon Bandit Games by buying the coin doubler.
!!!DOWNLOAD THIS!!!
How it Plays and Why it Works:
Adorable art and great music make this a game the whole family can play. Words go from easy, to hard,and a few that will keep the adults playing snickering. The freemium system that Bacon Bandit Games has implemented here works flawlessly.  The best part is the purchasable coin doubler is perfectly priced. You never need it, but it's helpful. You don't feel like there is a big pay wall here because there isn't.
Tap the letters, spell, and win.  It's that simple and it works marvelously. Some letters are worth more than others score wise and certain letters are powered up by jewels that will help you out when you use them.  The longer the word the bigger the damage.  Usually.  To keep things interesting certain fights have rules that need to be followed to win.  No words longer than five letters, words need two E's to do damage, you need to use corner letters, etc…. Then there are the challenge modes! Every level has two challenge modes attached to make things way more interesting.
To make sure the game stays interesting you are able to level up your characters stats and purchase items that can also be upgraded that help you on your way.  It all works flawlessly.
 No Like?
Some of the books seem pretty useless right now. Right off the bat you can tell which ones are obvious choices. From the first book, until I 99 Star'ed the game with Jasmine we never changed our three books.  I really hope the next updates gives us a reason to. Besides that, there really isn't an issue aside from the fact that we ran out of stuff to do… But thankfully Bacon Bandit Games has already let us know that more content is on the way! So to everyone waiting for new content, I say start saving up those gems to buy whatever else might be added to the store soon.
Agree? Disagree? Write your comments below
Read our other App Reviews
Basic Info:
FREE!!! on iOS
36.5  MB
Continuing developer updates and fixes
In App purchases
Universal app
Challenge Modes
Lots of replay
Weblinks
Developer:  Bacon Bandit Games
Letter Quest: Grimm's Journey on iTunes
Letter Quest: Grimm's Journey on Google Play