The Nardio Review
Is Threes! Worth Your Time?
Yes. Yes. A resounding Yes.
What Should I Play it On?
Threes! is available for both the iPhone and iPad. While I enjoyed playing on my iPad, the bigger screen real estate won't drastically change your game experience.
What Did You Think Without Spoiling It?
Threes! is an incredibly simple yet addictive game. It's really easy to pick up and play and soon you'll have wasted several hours trying to last a little longer and beat your last score. The boards you start off with are randomized so there are times where you might start off a bit better than others. At the end of the day though, it takes equal parts luck and thought to get a high score.
How it Plays and Why it Works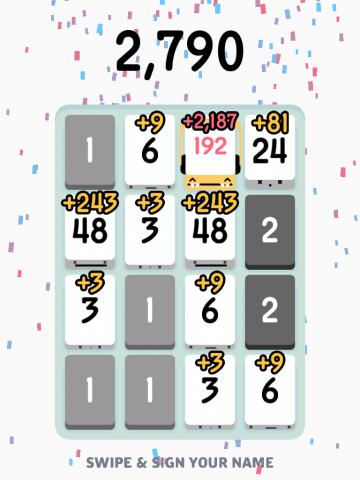 Threes! is deceptively simple at first. You combine different numbers on screen to get even larger numbers to combine and so forth. You move these numbers around the screen by going side to side or up and down. The trick here though is that you need to combine like numbers to increase your score. As the name suggests the numbers on screen are usually multiples of 3 though you are also offered 2s and 1s. You need to combine the 2 and 1 to make three. You cannot combine three 1s together to make a 3 or three 2s to make a six, in fact you cannot combine three 3s to make a 9. You can only combine two of the same numbers. When you combine numbers the two numbers nearest the edge that you swiped towards will combine. One important thing to note is that when you swipe, you move ALL the numbers in the direction you swipe if there is enough room for them to move. This is very important to remember as it could affect your overall number setup. The game ends when the board fills up and you cannot combine anything anymore. At first, the movement of the numbered tiles can be tricky, but eventually you learn how to move them about so that you can line things up the way you want. The bigger the number you have the bigger the multiplier. The swipe response is seamless and gameplay is incredibly smooth.
It seems so ridiculously simple that you wouldn't think that it would addictive, yet it is. There's just something about trying to make the biggest number you can onscreen that keeps you coming back for more. If that's not enough there's the incentive to beat your and your Gamecenter friends' scores as well. There's no time limit here so you can think about your next move for as long as you want or, you know, make yourself a sandwich or something. Threes! also implements some great background music and cute sound effects for each of the little numbers. Yes, aside from the 2 and 1, each number has their own personality. When you unlock one, you'll get a brief blurb on them. It's these little details that show how much the developer cares about the game.
No Like?
Maybe it's because I'm using an older iPad but Threes! takes quite a bit to initially load. Other than that, it's perfect!
Agree? Disagree? Write your comments below.
Check out our other app reviews!
Basic Info
$1.99 on iTunes
Endless math puzzle fun
Different number characters to unlock each with their own bios
35.7MB
Weblinks