The Nardio Review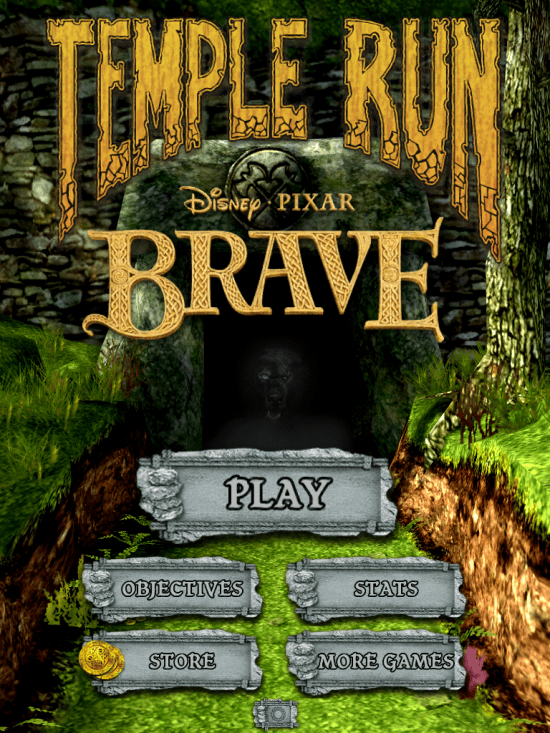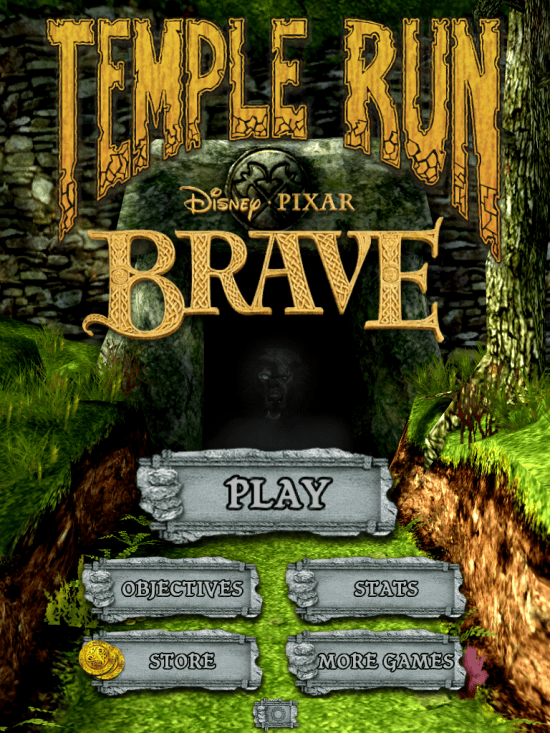 Is it worth your time?
YES
What should I play it on?
Temple Run: Brave plays perfectly on iPad, iPod touch and the iPhone iOS 4.0 and later. You get the same great experience with all devices. As always I prefer gaming on my iPad.
What did you think without spoiling it?
Brave at its core is almost a 100% copy of the original Temple Run. That's not a bad thing considering Temple Run is one of the best endless running games ever made. This game manages to improve upon the original, by updating the graphics and adding a fun, yet simple shooting mechanic into the mix. I also think the game is a lot more forgiving than the original Temple Run. Which honestly is really nice. I enjoy just zoning out and focusing on some really long runs while racking up a few thousand coins. I feel like the progression shows here a lot more as you get into the rhythm of the game and upgrade your character.
This game is just as addictive as the original. The controls are simple and perfect. It's a fun time waster that pretty much goes on forever and you just play to beat scores. There is even a leader board you can try and get yourself on. Special ability upgrades, unlockable costumes, achievements, and fun power ups make the already addicting game an even more impressive download that deserves to be in your app library.
Brave has almost the exact same in app purchases as Temple Run, but just like the original you don't really need them. In fact for me (maybe I play way too many running games) it is insanely easy to get all the coins I could ever want just playing the game. I guess it's for those people who aren't as good at running games yet.
I recommend buying Temple Run: Brave. For me the updated graphics, archery, and more forgiving gameplay totally make this game worth the 99 cent asking price.
How does it play?
The controls are perfect and the character animations are very bright and fluid. I have to say I love the in game graphics here. They are so clean and refreshing when compared to the original Temple Run. Everything from the bear chasing you, to the targets you shoot look really good. There is no lag whatsoever on my iPad 2 or iPhone 4. As fast as this game gets I'm really thankful for that. Touch and tilt perfected.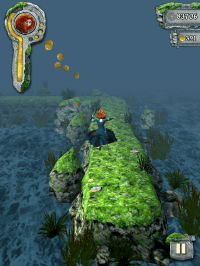 Since it's a randomized game occasionally you will have so many hazards in succession that there is just no way you can react fast enough. It feels cheap at times, but that's the nature of the beast. You just have to get into the zone, ignore everything else and just focus. I found myself surviving pretty long sometimes. To my knowledge you can't beat the game. It's all about surviving as long as possible.
Why it works:
Intuitive and simple gameplay with no lag whatsoever. Brave gets fast and always stays fun. There are tons of endless running games in the iOS store and this is one of the best, paid or free.
The good and bad is the game is randomly generated, so you can't "learn the course". This is good since there aren't check points you can start back from if you mess up, so you don't have that starting all over again feeling. The down side is you can't "learn the course". Some people might feel like they lose that feeling of progression. The game is more about beating your score, getting better upgrades, new characters to play with and getting on the leader board. The progression is definitely there when you notice your power ups lasting longer.
No like?
I wish there were more environmental changes that happen the longer you run. While I am glad for the updated graphic engine, id love for it to be put to better use. Maybe using some more environments from the movie. Besides that it looks really good, and controls perfectly. It's a dollar, but a dollar well spent. If you want a free game that's just like this, try getting the original temple run first.
Basic Info:
Price: .99 Cents
Worth: Priced perfectly
1 player game.
35.2 MB
Universal App
Month's worth of replay value.
You don't NEED the In-App Purchases. They are there if you want to splurge or thank the developer for a job well done.
Continuing developer support with fixes.
Supports game center so you can see your friend's top scores and share your own.
Child friendly. No violence, cussing, nudity, etc.
I would say this is good for a patient 9-year-old who likes fun time killers and beating his friends' scores. I'm 30 and I'm addicted to this game. Parents, you might find yourself sharing this one with the kids and working to get the power-up upgrades together.
Weblinks:
https://itunes.apple.com/us/app/temple-run-brave/id524509185?mt=8