The Nardio Review
Is Wind Runner Worth Your Time?
No.  Not at all.
What Should I Play It On?
Wind Runner is a broken universal app for the iOS 4.3. You get the same bad experience on iOS all devices.
Avoid Wind Runner, it's not worth your time at all.
What Did You Think Without Spoiling It?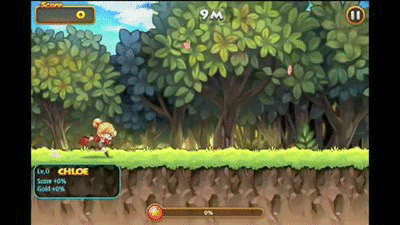 Wind Runner is a broken endless runner with forced online connection and insanely forced Facebook connection.
If you don't have internet connection you can't play this game… Why?  Who knows…  But when you are online and not connected to Facebook you can only play Wind Runner as a guest, five times a day. But when you do connect to Facebook the app never loads.  Unfortunately its been this way since the app launched. In September. Seven updates later and the game is still broken.
iOS app store reviews seem to be mixed between one word 5 star reviews and 1 star reviews saying the game is utterly broken… Stuff like this makes me think that more money is being put into buying positive reviews than fixing the game itself.
How it Plays and Why it Fails:
As a guest you are only allowed five runs per day…. For a game you own…
If you aren't online you cannot play Wind Runner at all.
When you connect to Facebook to unlock the full game, it crashes then never works again.
It's been this way since the app launched in September..It's December now… It's been this way for seven updates….
I've deleted the game and re-installed it at least 4 times.  I tried playing after a hard reboots with nothing else running, unfortunately nothing works.  When I do get to play the game as a guest, none of the cool features touted are applied in game.  You can't level up, or unlock pets, mounts, or even do anything with all the stars you get.  Wind Runner is just another side scrolling endless runner that does nothing to stand out in guest mode.  You just get five chances to play the game a day this way with no progression whatsoever.
There doesn't even seem to be a reason for the forced online connection requirement. I am totally floored as to why I need a Facebook Login to play the game as advertised.  Sadly there isn't an offline version or a Facebook free version of the game.  I was going to review Wind Runner back in September when it launched, but since it was so broken I gave the developers time to   fix it.  Well its December now, three month since launch and the game is just as broken as ever…
No Like?
How can WeMade Entertainment ignore the one star reviews the game was getting for three months while not addressing the problem? The app support button leads to the Official Facebook Page of Wind Runner.  Oddly the Facebook page states that you don't need the online connection for guest mode, but in reality you do.
" A: Guest Mode does not require an Internet connection. However, features including Facebook Connect, Friend Invitation, Shoe Request, Gifting, Sharing, and In-app Purchase require a working Internet connection."
The above is a response in the Wind Runner Facebook FAQ section about online connection requirements.  Why lie on your FAQ page? 

Avoid Wind Runner at all costs.  There is nothing here worth your time or download.  It's free, but Wind Runner is just broken.
Agree? Disagree? Write your comments below
Read our other App Reviews
Basic Info:
Free on iOS
42.6 MB
You can delete it pretty fast.
Continuing developer updates that fix nothing.
In App purchases
Universal app that is universally broken.
Weblinks
Developer: WeMade