The Nardio Review
Is Beelzebub Worth Your Time?
Yes. You need to watch this.
 [slideshow_deploy id='6654′]
What Should I Watch It On?
So far Crunchyroll.com seems to be the only place that provides Beelzebub legally. I have no problems at all watching it on Crunchyroll.  Beelzebub looks great playing on my plasma from my Roku.
What Did You Think Without Spoiling It?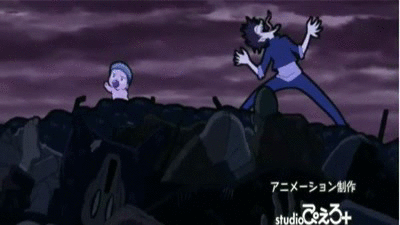 Beelzebub  is an amazing and hilarious fight/high school/parenting/romance/gag anime that makes fun of everything, including itself.  The anime is based off the Manga of the same name created by Ryuhei Tamura.
The story of Beelzebub follows Tatsumi Oga, who is a first year student at a school for the worst delinquents. Oga randomly finds a baby who turns out to be the second son of a great demon king bent on destroying humanity. It now falls to Oga to raise the baby to be a fine destroyer of humanity. Hilarity ensues as he learns to be a parent and deal with the insanity of a delinquent high school.
Beelzebub starts off a little slow and repetitive, but after a few episodes I was totally hooked. The cast of characters are inspired from anime and manga clichés but evolve and  become endearing. Best of all every character has some chance to shine. Beelzebub never takes itself too seriously. Beelzebub is completed at 60 episodes. If you are looking for your next show to marathon over a long weekend look no further. You will find yourself sad when it ends, because it is so enjoyable.
Why it Works?
Beelzebub has great art and wonderful voice acting that really brings every character to life. The show never gets too serious or even too silly. Some episodes can feel totally random, but in the end they always seem to tie together. A really interesting thing to love about Beelzebub are the intros and outros to the show. The ending songs are ridiculously catchy and feature great art. Jasmine and I had 9nine's "Shoujo Traveler" stuck in our heads for days after watching the show. Funny enough the characters seem to listen to the music in the show.  The story of Beelzebub is pretty light hearted with odd bits of male and female fan service peppering the series. Be forewarned there is also tons of animated baby nudity. Beelzebub's violence isn't very bad .  Most of the fights are resolved pretty fast and almost always include gags so the show never feels too violent or dark.  
No Like?
There is nothing at all wrong with Beelzebub.  I'm only sad it ended. While the ending was fun and fit the show perfectly, there was soooo much more story to tell. I really hope they make a sequel to Beelzebub sometime soon. I cannot wait to get back into the world.
You need to watch this!
Agree? Disagree? Write your comments below.
Read our other TV/movie reviews.
Basic Info
Beelzebub is 60 Episodes
Completed show
Subtitles only!
Stream on 

Crunchyroll.com