The Nardio Review
Is Maze Crusade Worth Your Time?
YES!!!
What Should I Play It On?
Maze Crusade is a universal app for the iOS 6.0 or later. You get the same great experience on all devices, but I prefer playing on the iPad.
What Did You Think Without Spoiling It?
Maze Crusade is one of the most original and addictive iOS games I have played in a long time. Interestingly enough, Maze Crusade is a mix of other established games. Maze Crusade is an endless runner, an endless maze and a matching game. Here you play as a noble night (With a very noble sounding voice) whose task it is to rid the kingdom of monsters. In return you shall receive goats. Then you are thrust into randomized mazes with a rolling spiked wall of death following you. Your job is to keep moving forward, killing everything you can and getting keys to move to other mazes.
At first the gameplay can seem a bit slow and the controls a bit weird.  After several games, it just works.  Best of all, the longer you play the more you unlock to help you on your journey. There is no real strategy here since the maps and items are randomized. Just try your best and enjoy the tension that happens every time you find yourself getting close to the wall of spikes.
How it Plays & Why it Works: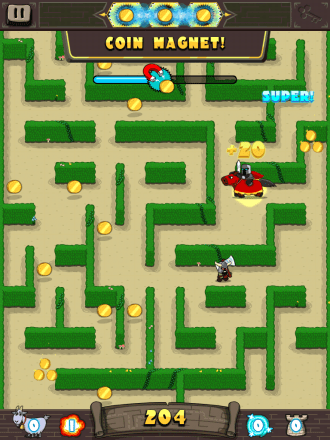 Unfortunately Maze Crusade's controls aren't as tight as I would like. Swipes can go undetected or worse be registered as a tap, which stops your character from moving. Thankfully they do work most of the time and I am hopeful the developer will work on a fix ASAP.
There's a lot to love about Maze Crusade. The art design is wonderful and animations are adorable and smooth. Whoever is in charge of sound here deserves a pat on the back. From the awesome music that just fits perfectly, to the wonderful enemy shrieks and the great voice acting that comes across perfectly everything just works.  This is a very polished game. The trailer is also pretty darned funny, check it out below.
Maze Crusade is a Freemium game, so the big concern is "forced" in app purchases. Thankfully, that's not a problem here. Since the game is randomized you might not get much money in some runs. Other runs have you pulling in tons of goats though, which makes upgrading your boosts totally doable goal to those that are committed. Of course there is the option to buy goats and the prices aren't insane. The "Holy Grail" currency can also be found in the maze, making the game totally free to play for those that don't want to pony up the money.
No Like?
The control responsiveness needs to be fixed.  It's not game breaking, but it does cause a few unnecessary deaths. The free goats for watching ads function is broken. I watch the ads but don't get my goats. Does buying the Goat Doubler also remove the ads? I'm very tempted to get it, but only if I lose the ads.
Agree? Disagree? Write your comments below
Read our other App Reviews
Basic Info:
Free on iOS
77.4 MB
9 Maze worlds
Continuing developer updates and fixes
In App purchases
Universal app
Randomized gameplay
Weblinks