The Nardio Review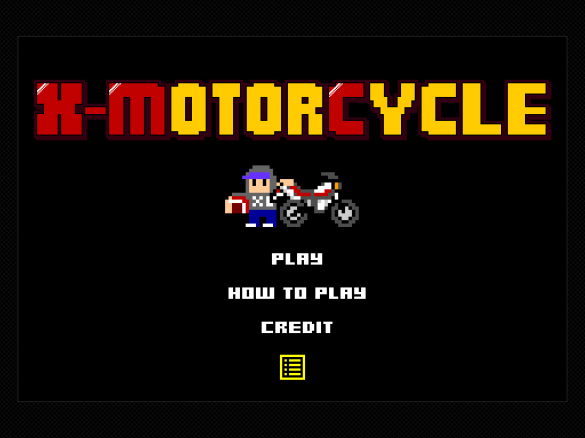 Is it worth your time?
YES
(See our developer interview here) Coming soon!
What should I play it on?
X-Motorcycle plays perfectly on the iPad, iPod touch and the iPhone iOS 4.0 and later. You get the same great experience with all devices. As always I prefer gaming on my iPad.
What did you think without spoiling it?
Sometimes you just want a simple game. X-Motorcycle is classic 8-bit gaming that just begs to be played, appreciated and replayed. For the insanely great price of free you get: two buttons, great retro graphics, sound effects and fun gameplay. All you do in X-Motorcycle is go right, dodge the banana peels and dirt piles while picking up the bananas, super bananas and gas cans. Simple, fun and addictive. Did I mention it's free!!!!
How does it play?
The controls are perfect, the character animations are retro cute and the reaction is spot on. At no time did I feel like this was a cheaply done app. I loved the classic sound effects. I felt like a happy kid again playing this game. I just smile and keep trying to go farther.
Why it works
:
One touch, with no lag whatsoever to take away from the fun. It totally reminds me of classic tiger handhelds. The animations are cute retro adorable. The best part is that it's simple enough for anyone to pick up and play. There's just enough going on in the game that you'll need to pay attention. I can see this as a great road-trip game for the kids.
Poppy has done it again! They just make quirky original games that are super simple as well as very fun and addictive.  I just can't help but smile whenever I play Poppy games.
No like?
Nothing. It's pretty much a perfect time killer that just so happens to be free.
Basic Info:
Price:  FREE on the Apple App Store!
Worth:  I would have paid .99 cents for this game.
1 player game.
No Ads!!!!!!!!!!!!!!
Years  worth of replay value.
Continuing developer support with fixes.
Child friendly.  No violence, cusses, nudity, etc..
Weblinks: