Nardio News
After successfully releasing several hit games on multiple platforms themselves 10tons enters the publishing realm.  The first game on the menu is Trouserheart by Dicework Games.
Press release excerpt below:
[quote]Tampere, Finland, August 7th 2013 – Finnish game studios 10tons Ltd. and Dicework Games announced today a lighthearted fantasy action adventure game Trouserheart. Developed by Dicework Games and published by 10tons, Trouserheart will be released as a premium game on iOS in September.
"It's been great to work on Trouserheart with Dicework Games. When we first saw the game we instantly fell in love with the art style and the easygoing gameplay. Even after spending several months with the game, it still brings up that simple feeling of enjoyment every time you pick it up," says Tero Alatalo, CEO of 10tons Ltd.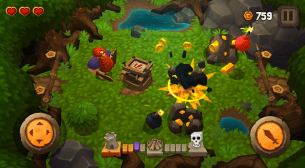 "Teaming up with 10tons has been fantastic," states Arto Koistinen, CEO of Dicework Games. "We've been able to pour all our time and creative energy into crafting and polishing Trouserheart, and it's working beautifully. I can't wait for players to start whacking blockolds and hoarding treasure!"
Trouserheart is an instantly accessible action adventure game set in a playful fantasy world. Developed with the Unity game engine, Trouserheart features bright and colorful 3D graphics, super fluid controls, loads of hidden treasure, and a world full of monsters and bosses to beat."[/quote]
With the amazing track record of quality gaming 10tons has shown I cannot wait to see what they will bring as a publisher. The images look promising and I am already freeing up space on my iPad for it.  We will let you know more about Trouserheart when we can.
Our Interview with 10tons CEO Tero Alatalo.