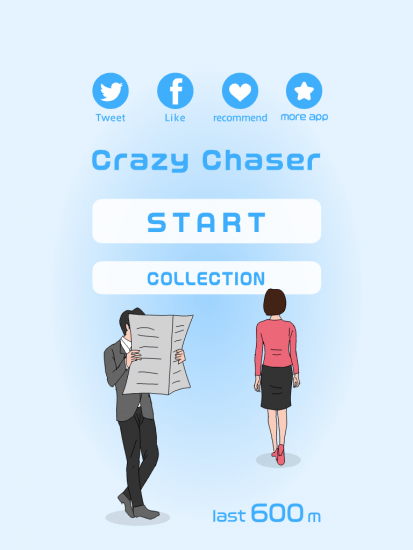 Is Crazy Chaser Worth Your Time?
Yes. OMG Yes.
What Should I Play it On?
Crazy Chase is available on iOS and Android. As always I prefer playing on my iPad.
What Did You Think Without Spoiling it?
Yes, the concept might come off as creepy – you're stalking a woman on her way home – but it is done with such a light hearted tone that, well, you can't help but like it. And before anyone gets too upset, no I do not condone stalking.
How it Plays and Why it Works
The concept is simple: you follow a woman on her way home and must avoid detection. She will turn around to look behind her every so often and you have to touch the screen at the exact right moment to "hide." The hiding part is what makes it so hilarious. Of course there are the usual tricks like hiding behind a newspaper, but as you keep playing the "stalker" pulls out even more outlandish outfits and tricks such as:
An exhausted boxer resting in his corner
A tiny version of himself
The Statue of Liberty
A murder scene
There's at least a hundred different outfits, per se and all of them are just hilarious when he pulls them out. After all, what kind of woman would feel at ease seeing these random and weird scenes pop up behind her every couple seconds? The game obviously doesn't take itself too seriously and it's really there so you can enjoy the ridiculous poses. Of course, there is that little thrill you get later on when you need to make the quick judgement of whether she will actually turn around or not. But, you're not punished if you are spotted or if you pull a pose but she doesn't turn around. You just restart exactly at the distance you messed up. It's kind of nice. I like that it is not a punishing game and, better yet, that there's an actual end. It certainly kept my interest as I really wanted to see the resolution. Best of all it's free!
Get this game now!
No Like?
As I got closer to the end, I could swear the area that registered my taps got smaller. In the beginning I could tap the sides but then halfway through and I had to start tapping almost at the center of the screen. It's not a game breaker, but it is annoying.
Basic Info:
Free!
37.4 MB
Available on iOS and Android
Weblinks: