Worth Your Time on Amazon Prime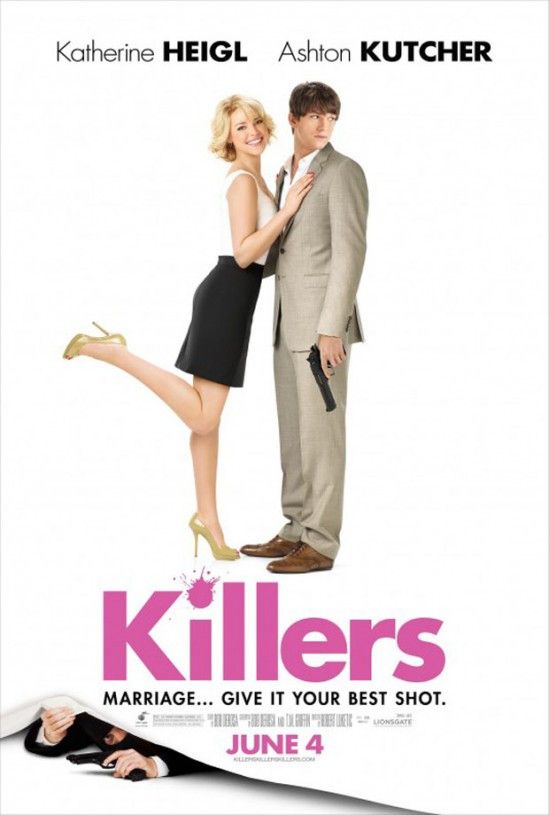 Is It Worth It?
Yes, especially since it's free on Amazon Prime.
What Should I Watch it On?
We watched Killers in HD/Blu-ray
. I think you get the best experience that way.
What Did You Think Without Spoiling It?
Killers is a fun movie in the vein of Knight and Day, except even more hilarious. I can't say that I really believe Ashton Kutcher as a government assassin, but it's not like I was really expecting a lot from this movie except good 'ol fashioned fun.
Why it Works
Killers doesn't really take itself too seriously, which is great, but somehow it still manages to keep some bits of seriousness to it. Yes, people actually die in this movie, despite it mostly being comedy. I enjoyed Katherine Heigl's performance. She played the witless sidekick perfectly, and of course Tom Selleck was great as the overprotective father. I don't want to give too much away, but basically Kutcher's character, Spencer Aimes retired from being a governmental assassin to spend his life with Heigl's character, Jen Kornfeldt. Three years later, Aimes learns that he has a multi-million dollar hit on his head and must somehow save himself, his wife and his marriage.
I'm sure if you're going into this movie looking for an amazing storyline and depth, you'll walk away disappointed. I suggest renting this movie if you don't want anything too serious but still want a little action. I'm not really a big Ashton Kutcher fan, but for girls (and guys) that do like him, there's certainly plenty of eye candy, especially in the beginning of the movie.
No Like?
I just really couldn't believe Ashton Kutcher in the role. It's also hard to tell the amount of time that passed when Heigl and Kutcher first met to his proposal. It literally seemed like the next day. Maybe it's because of the short amount of time, but I really couldn't feel the chemistry between Heigl and Kutcher.
Basic Info