Mixer Weekend: Spring Cocktails
Although Spring was technically about a week ago, it hasn't really felt like Spring until recently. Temperatures are getting above the 45 degree mark and people might be tempted to put away their winter coats. With the weather getting warmer, why not switch over to some spring-y drinks? These three delicious spring cocktails will make you wish Spring was all year round.
Want other drinks? Check out the rest of our cocktail recipes!
Basil Tom Collins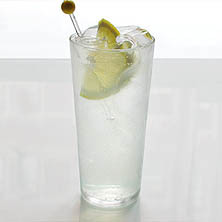 There's nothing quite like a Tom Collins to get you in the mood for spring. By itself a Tom Collins is incredibly refreshing, but add a hint of basil and you've got yourself a winning spring cocktail.
Ingredients
1.5 oz of gin

5 fresh basil leaves
3 wedges of lemon
0.5 oz of simple syrup
Club soda
Equipment
Jigger

Muddler
Cocktail shaker
Strainer
Ice
Collins glass
Lemon wedge garnish
Instructions
In the cocktail shaker muddle the lemon wedges and the basil together.

Combine the rest of the ingredients then top with ice.
Shake vigorously for 10-15 seconds.
Fill collins glass with ice then strain contents of shaker into the glass.
Top with club soda and garnish with a lemon wedge.
Blood Orange Caipirinha
Caipirinhas are delicious, exotic and incredibly simple to make. Although blood oranges are typically winter fruits, you might still be able to dig up a couple for this delicious drink. If you can't find it, you may be able to find a blood orange concentrate so that you can enjoy this delicious drink all year round. The beautiful garnet color coupled with the delightful sweet and tangy flavor from the lime and cachaca make this a must-not-miss spring cocktail.
Ingredients
2 oz of cachaca

1.75 oz of simple syrup
3 lime wedges
2 blood orange wedges or 0.75 oz of blood orange concentrate
Equipment
Jigger

Cocktail shaker
Muddler
Ice
Rocks glass
Blood orange wheel garnish
Instructions
Muddle the lime and blood orange in the cocktail shaker.

Add the cachaca and simple syrup then top with ice.
Shake vigorously for 10 seconds.
Pour contents of shaker into the rocks glass and garnish with blood orange wheel.
Pimm's Cup
Ever heard of Pimm's? Don't worry, most people haven't. It's a rather herbaceous aperitif perfect for an after dinner drink. If you happen to be British, you most likely know the awesomeness that is a Pimm's cup. It's perfect for a sip on the patio overlooking a beautiful garden. Delicious, refreshing and simple to make, the Pimm's cup is perhaps the quintessential spring cocktail. The British chaps use lemon soda, but 7-up is a bit too sweet so I opted for the Italian soda – Limonata
. This is just the very basic version of a Pimm's cub. If you're feeling extra adventurous add some mint, orange slices, strawberries or even a little gin to the drink for extra oomph.
Ingredients
1.5 oz of Pimm's

1/2 inch thick cut english cucumber
1 lemon wedge
4 oz of Limonata
Equipment
Jigger

Muddler
Cocktail shaker
Cocktail stirrer
Ice
Collins glass
Directions
Muddle the cucumber and lemon wedge in the collins glass

Add in the Pimm's and Limonata
Stir gently for 5-10 seconds.
Top glass with ice and garnish with a lemon twist.