It's beginning to feel a lot like winter, even if there isn't snow yet on the ground where I live. What better way to celebrate the coming of winter (December 21st) then with some peppermint flavored drinks? Not only will they help keep you nice and warm, they'll also taste delicious. Be forewarned. These might be so delicious, you might end up falling asleep before the festivities happen.
The Fireplace
This drink is something I came up with at one of my bars during an especially cold winter night. It's incredibly strong, so please, drink with care.
Ingredients
2 oz cognac
3 dash of mint bitters
0.5 oz amaretto
Equipment
Jigger
Cocktail shaker
Strainer
Stirring spoon
Martini glass
Ice
Directions
Combine all liquid ingredients into the cocktail shaker then top with ice.
Stir with stirring spoon slowly in a clockwise rotation for 20 seconds.
Strain contents into a martini glass.
Candy Cane Martini
There's a lot of iterations of this drink, and for good reason. Candy cane's are the candy of the winter time. You don't have to celebrate christmas to know that it's winter once you start seeing these guys in every store.
Ingredients
2 oz vanilla vodka

1 oz peppermint schnapps
2 oz white chocolate liquor
Equipment
Jigger
Cocktail shaker
Strainer
Ice
Martini Glass
Candy cane garnish and rim
Plastic bag
Wood mallet
Directions
Coat the rim of the martini glass with crushed candy canes. You can crush the candy canes by placing them into a plastic bag and crushing them with a wooden mallet.

Pour all the liquid ingredients into the shaker, then top with ice.

Shake vigorously for 10 seconds.
Strain into a martini glass and garnish with a small candy cane.
Warm Coffee Grasshopper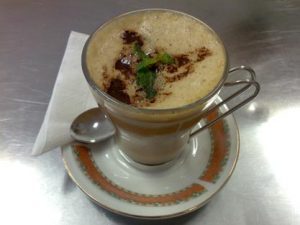 So maybe it doesn't sound super enticing, but believe me, it's delicious. I'm not really a bit coffee fan, but the warmth of the coffee along with the delicious creme de menthe will definitely get you ready to take on a wintry day.
Ingredients
4 oz of coffee
1 oz white creme de menthe
1.5 oz vanilla vodka
0.5 oz cream
Equipment
Jigger

Coffee mug
Spoon
Mint leaf garnish
Directions
Make coffee of your choice and pour into coffee mug.
Add in the remaining ingredients and stir well.
Garnish with a mint leaf.