Worth Your Time on Amazon Prime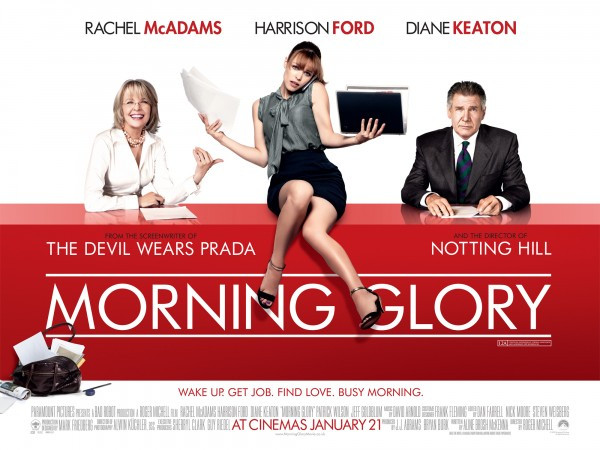 Is It Worth Your Time?
If you like Rachel McAdams but are tired of the more serious love stories, Morning Glory is a light and fun option. Plus, it's FREE on Amazon Prime.
What Did You Think Without Spoiling It?
As always, McAdams plays a bright, sweet woman, but this time she is obsessed with her job as the producer of a Daytime TV show. She plays the part with ease and it's interesting to see a movie where there is no romance with the leading male character. In fact, I would venture to say that the romance in this movie is pretty thin and seems like it was thrown in there because, hey, it's a Rachel McAdams movie.
Why it Works
Rachel McAdams makes the movie. Her bright and perky personality despite the hurdles that she has to face first with being fired from her first job to making Daybreak competitive again. Harrison Ford doesn't really seem to be trying too hard in the movie, but he does a good job at playing the grouchy old man. Keaton also pulls off a good performance as the enthusiastic daytime "news" anchor. There's not a lot of depth to this movie, but it's good fun watching Ford and Keaton's characters clash both on and off TV. If you're looking for a cute and light movie, Morning Glory definitely fits the bill.
No Like?
McAdams' love interest seemed completely uninterested! Morning Glory is categorized as a romanic-comedy, but there's no real romance here unless you count the hero worship McAdams' character has for Harrison Ford's. On that note, Ford doesn't really seem to be too into his role. He also comes off as too gruff and it's hard to find anything likable about him. The movie seemed to have a message regarding real news vs. fake, glorified news, but by the end, Rachel McAdams' doesn't seem to have learned anything and Ford's character, the legendary news anchor, ends up serving frittata.
In Closing
Overall, Morning Glory isn't a horrible movie nor is it an amazing movie. It's a light, cute movie that doesn't really require a lot of thinking. It's a perfect date night movie if you don't want to be too focused on the movie.
Basic Info