The Nardio Review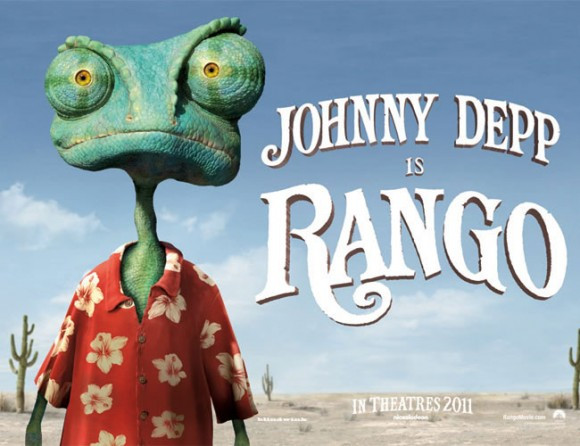 Is it Worth Your Time?
NO. Not even on Amazon Prime Free Streaming.
What Should I Watch it On?
If you must watch Rango, definitely watch it on Blu-ray. The CG is crisp, the colors bright and the detailed environment requires clarity.
What Did You Think Without Spoiling it?
First off, I would have to say that Rango is NOT for the younger kids. Or really even much of a kid's movie honestly. It tries to too hard to be adult and then throws in some gag humor in there that just falls flat.
Why it Works
The CG is crisp and the colors really pop. There's a great attention to detail to each of the desert critters in the story. You can really see each strand of fur, scales, what have you. Rango certainly didn't skimp in the animation department. For film buffs there's a lot of homages to some great movies like Fear and Loathing in Las Vegas and Chinatown.
No Like?
Rango just goes too many places at once. It's hard to really focus on what's going on. There's also plenty of messages here, but again, they just get lost in the noise. It doesn't even seem like it should be that complicated, there's only really two main plots in Rango: Where did all the water in Dirt go and the more existential personal journey of Rango. The worst part is that none of the characters are really likable, even Rango. Rango is supposed to be this multi-layer character, but he comes out one-dimensional. Does he even change at the end of the story? It doesn't seem like it. It just seems like he's along for the ride. You'd also think that since the movie is pretty much a Western that there'd be plenty of action. The story, despite all the different plot threads, moves at a snail's pace. There's some action but because I didn't really care about the character, the sequences ended up boring.
The dialogue tries a little too hard to be clever a lot of the time and I really only laughed out loud once. The movie is this strange mix of existential, morbid and yet somehow completely boring. It doesn't really seem like Rango knows who it's target audience is. Rango was marketed as a kid's movie, but this movie is definitely not for children under the age of 10. The citizens of Dirt do get killed (some murdered eve) and there is some mild swearing. There are plenty of movies that succeed in entertaining children and adults, but Rango just doesn't seem to get that balance right throughout the movie. There's also a lot of existentialism in the movie: Who am I? Why am I here? What am I doing with my life? There's an obvious environmental message going on here as well. The movie just gets overloaded with too many messages and not enough laughs. I'm guessing most people got suckered into watching this movie because Johnny Depp was the voice of Rango.
Basic Info
FREE Amazon Prime Streaming
DON'T WASTE THE MONEY TO BUY THIS MOVIE
Run-time: 107 minutes
Actors: Johnny Depp, Timothy Olyphant
Rated – PG