Nardio Review
Is it worth your time?
YES!
It's Free and Awesome!
What should I play it on?
Sheep Happens is available on the iPad, iPod touch and the iPhone iOS 5.1and later. You get the same great experience with all devices. As always, I prefer gaming on my iPad 2.
What did you think without spoiling it?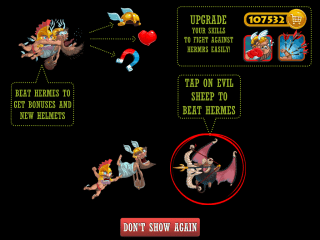 Sheep Happens is an insane game that manages to make the side-scrolling endless runner fun and fresh again. It isn't too often I find myself loving a game that is confusing, cheap and sorta broken. It pulled it off at launch with a bunch of problems and bugs, but now five updates in the game is working great and all that's left is to enjoy the insanity. It really makes me happy to see a developer taking their game and user reviews seriously and fixing problems fast. With great gameplay, art and music design Sheep Happens definitely deserves a spot on your iOS device.
I recommend supporting this developer with some in app purchases.
How does it play?
Sheep Happens is a side-scrolling endless running game that puts you in control of Perseus who has just been tricked by Hermes. At the beginning of the first Olympics Hermes sells Perseus a pair of magical shoes to help him win. The problem is the shoes don't stop running. After you win the race you are left in perpetual motion until you finally fall down and game over.
Overall the game is super fun. The artwork is brilliant and hilarious and the music is very catchy. The game controls perfectly. It takes a while to get used to the gliding mechanic, but it works overall. The best part is this is another amazing Freemium game.  It is totally possible to max out your stats without spending a dime in game. If you want to speed things up the awesome power-ups aren't priced abad at all.
The fact that the Ling Play and Kongregate have been so fast in patching and fixing all the problems the game had at launch definitely makes me want to support them.
The only problems I have with the game are the occasional cheap hits from  waves of falling sheep and bad placement of super tall hurdles that all but ensure your game is going to be over. These are annoying problems but not game breaking. I love being able to catch Hermes and beat him up. I love the statue that gets left in place at my best run marks. I love so much about this game I don't mind a cheap death here or there or the occasional bugs that the game used to have.
Why it works:
Insane art, super interesting backgrounds, a funny boss fight, nods to other stories, fun endless running and a lot more. This game is just full of fun and for the price of $0 you just can't beat it. The game is still being tweaked and fixed to make sure Sheep Happens is the best game it can be. I really hope they manage to add more content like random bosses to beat up and some more interesting costumes. The hats are cool, but I'd like some more fun content please.
Basic Info:
Price: FREE on the Apple App Store!
46.9  MB
1 player game.
Retina Display
Great replay value.
One save slot (You really don't need another)
Universal App
Web links:
Developer: http://lingplay.com/en/games/sheep-happens
Publisher: http://www.kongregate.com/
Apple App Store: https://itunes.apple.com/us/app/sheep-happens/id672008775?mt=8