The Nardio Review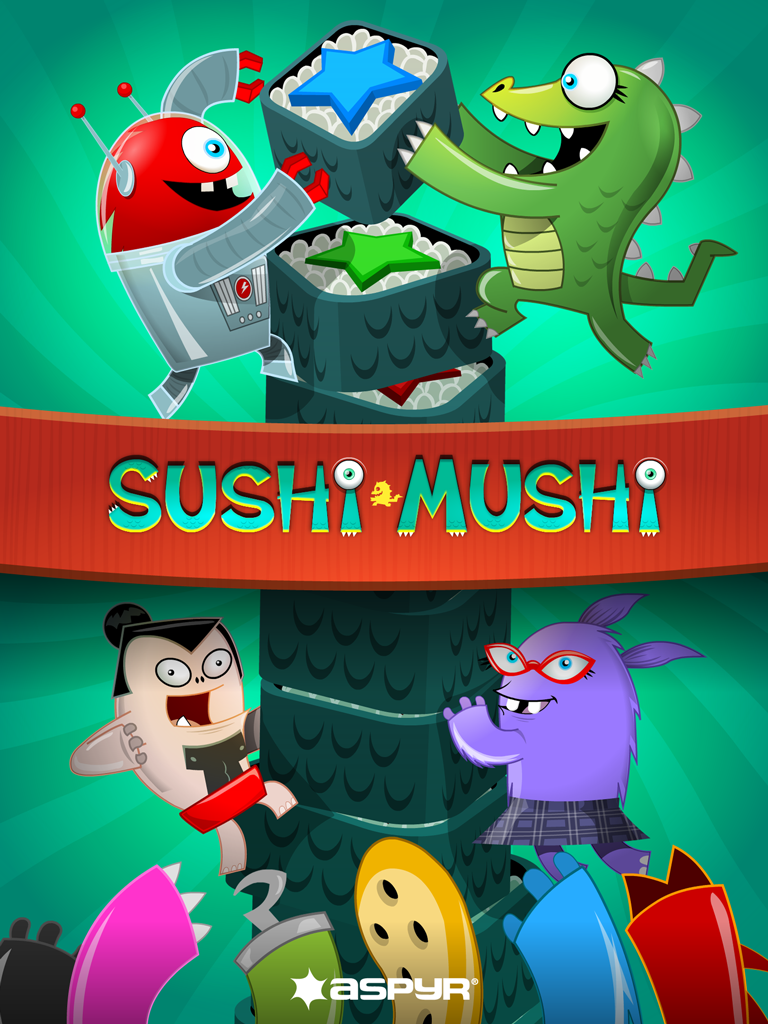 Is It Worth Your Time?
Yes! Plus Sushi Mushi is free to play!
What Should I Play it On?
You can play Sushi Mushi on the iPhone 3GS and above, iPad and iPod touch 3rd generation and above. You must, however, have iOS 5.0 or above to play this game. I prefer playing on the iPad.
What Did You Think Without Spoiling it?
Sushi Mushi is a fun and addictive game that allows you to play with your friends or random opponents. It's a pretty simple game to understand – just match up 3 of the same color or shape and earn points and beat your opponent. Throughout the game you can complete achievements that will bump you up a belt color. Each round goes pretty quickly and it's a perfect time waster.
How Does it Play?
For the most part, the touch controls for Sushi Mushi are pretty good, but there are occasions where it doesn't register my swipes. This is pretty frustrating when I have traced over a long line of matches and for some reason it only registers my first three. This doesn't happen that often so it isn't gamebreaking.
Why it Works
Sushi Mushi is a classic matching game that's made a lot more fun thanks to the fun character design, interesting game mechanics and online play. The gameplay is basic but the designers added some fun mechanics to spice up a traditional matching game. If you match up 4 shapes of the same color (square, diamond, star and circle) you create an eat roll. If you match up the same shape of all the colors (red, green, blue, orange) you create a rob roll. An eat roll allows you to consume the sushis you have made, increasing your score. A rob roll will steal any remaining rolls from your opponent and add that to your score. If you don't want to miss these rolls, you can purchase two boost items that will highlight specific rolls, but they cost coins.
Coins are the in-game currency and they're not too hard to come by. You can earn coins by going up a belt level, winning a match and matching items when you receive a fortune cookie. Aside from purchasing boost items you can also use coins to practice in snack mode and purchase new characters. Currently there are 10 characters to choose from. I'm the sumo wrestler.
One of my favorite things about this game is that you can have as many games going on as you want. There doesn't currently seem to be a limit. You'll never have to wait too long for your next turn.
No Like
Aside from the occasional swipe issue, my only other issue is that practice mode (AKA snack mode) costs coins. I get that the developer is hoping people will make in-app purchases, but it's kind of a shame that I can't just practice for free.
I do like the fact that you increase your belt color, but it doesn't really do anything as far as I can see. I've been battling yellow belts, brown belts and even black belts as an orange belt.
Since this is a free game, there are ads. Pretty much anytime you start a new round or match there will be an ad that you will have to exit out of. It can be a little annoying, but there is the option to pay $0.99 to remove all ads.
In Closing
While there are some issues with the gameplay, it happens infrequently enough that it's not game breaking. Sushi Mushi is a super fun game for anyone who enjoys pitting themselves against others. It seems like there's going to be a new patch soon that will add new characters.
Agree? Disagree? Write your comments below!
Tips and Strategies
Try to keep your match chain going as long as possible since this will give you an added bonus to your score.
Always wait until your opponent has finished tallying their score and eating their sushi before purchasing a boost item. When I see that the opponent has sushi left, I always purchase the item that highlights rob rolls.
Collecting the bento boxes doesn't do much for your, but they are necessary to go up a belt level. Don't focus too much on collecting them. Focus on the sushi rolls.
There are several different items that can pop up from the takeout box: Blowfish – blows up surrounding sushi; Bomb – blows up surrounding sushi; Color-changing fish – removes all the fish of the color that you choose; Rice – score doubler; Fortune cookie – gives you a fortune and allows you to play the slots to earn coins.
Basic Info
Price: FREE on the Apple App Store; pay $0.99 to remove ads
Worth: I would have paid $0.99 for it
43.1 MB
Asynchronous multiplayer game
Endless replay value
Universal App
You don't NEED the In-App Purchases. They are there if you want to splurge or thank the developer for a job well done.
Continuing developer support with fixes.
Child-friendly
Weblinks
Publisher/Developer – Aspyr: http://www.sushimushigame.com/
Apple App Store – https://itunes.apple.com/us/app/sushi-mushi/id535887754?mt=8