Is it worth your time?
YES
(See our developer interview here) Coming soon!
What should I play it on?
Temple Run plays perfectly on the iPad, iPod touch and the iPhone iOS 3.0 and later. You get the same great experience with all devices, but I get the most enjoyable experience playing on the iPad. The graphics are a little retro but nice and best showcased on the bigger screen.
What did you think without spoiling it?
It is my understanding that Temple Run is the actual original forward facing 3D infinite runner on the iOS platform.  Subway Surfers, Agent Dash and many others have since borrowed elements from this game. Very, very few have been able to capture its magic.
Honestly this game is addictive. The controls are simple yet so spot on its no wonder this was an immediate hit. The fact that so many other games have followed in its footsteps is a testament to its genius design. The fact that it has over 100 MILLION downloads makes total sense once you get your hands on it.
Did I mention its free?!???!
IT'S FREE!!!!! I play this whenever I have the chance. This game, along with Kingdom Rush, have made my job at Nardio that much harder. How am I supposed to be reviewing games if I can't put these two down? It's a fun time waster that pretty much goes on forever and you just play to beat scores. There is even a leader board you can try and get yourself on. Special ability upgrades, unlockable characters, achievements, and fun power ups make the already addicting game an even more impressive download that deserves to be in your app library.
Now it has in-app purchases…I know I normally try to avoid games with this, but I have to say this is one of the good ones. You aren't bombarded very often with ads to buy things, and you don't need to buy anything.
How does it play?
The controls are perfect and the character animations are great. There is no lag whatsoever on my iPad 2 or iPhone 4. As fast as this game gets I'm really thankful for that. At no time did I feel like this was a cheaply done app, in fact I'm surprised this a free game. Touch and tilt perfected.
Since it's a randomized game occasionally you will have so many hazards in succession that there is just no way you can react fast enough. It feels cheap at times, but that's the nature of the beast. You just have to get into the zone, ignore everything else and just focus. I found myself surviving pretty long sometimes. To my knowledge you can't beat the game. It's all about surviving as long as possible.
Why it works:
Intuitive and simple gameplay with no lag whatsoever. Temple Run gets fast and always stays fun. There are tons of endless running games in the iOS store and this is one of the best, paid or free.
The good and bad is the game is randomly generated, so you can't "learn the course". This is good since there aren't check points you can start back from if you mess up, so you don't have that starting all over again feeling. The down side is you can't "learn the course". Some people might feel like they lose that feeling of progression. The game is more about beating your score, getting better upgrades, new characters to play with and getting on the leader board. The progression is definitely there when you notice your power ups lasting longer.
Did I mention its FREE!?!?!?!?!
No like?
There are some pop-up ads when you start up Temple Run, So be sure if you are letting some kid play, that In-App Purchases are turned off.
Basic Info:
Price: FREE in the Apple App Store!
Worth: I would have paid 3 bucks for this game.
1 player game.
26.4MB
Month's worth of replay value.
You don't NEED the In-App Purchases. They are there if you want to splurge or thank the developer for a job well done.
Continuing developer support with fixes.
Supports game center so you can see your friend's top scores and share your own.
Child friendly. No violence, cussing, nudity, etc.
I would say this is good for a patient 9-year-old who likes fun time killers and beating his friends' scores. I'm 30 and I'm addicted to this game. Parents, you might find yourself sharing this one with the kids and working to get the power-up upgrades together.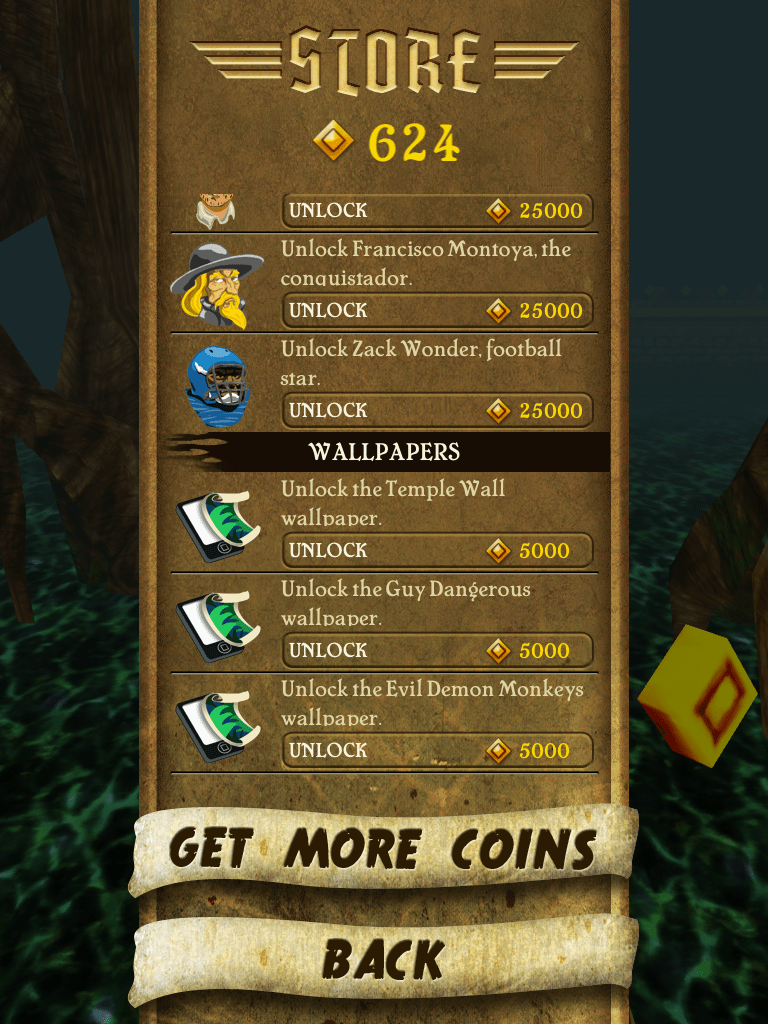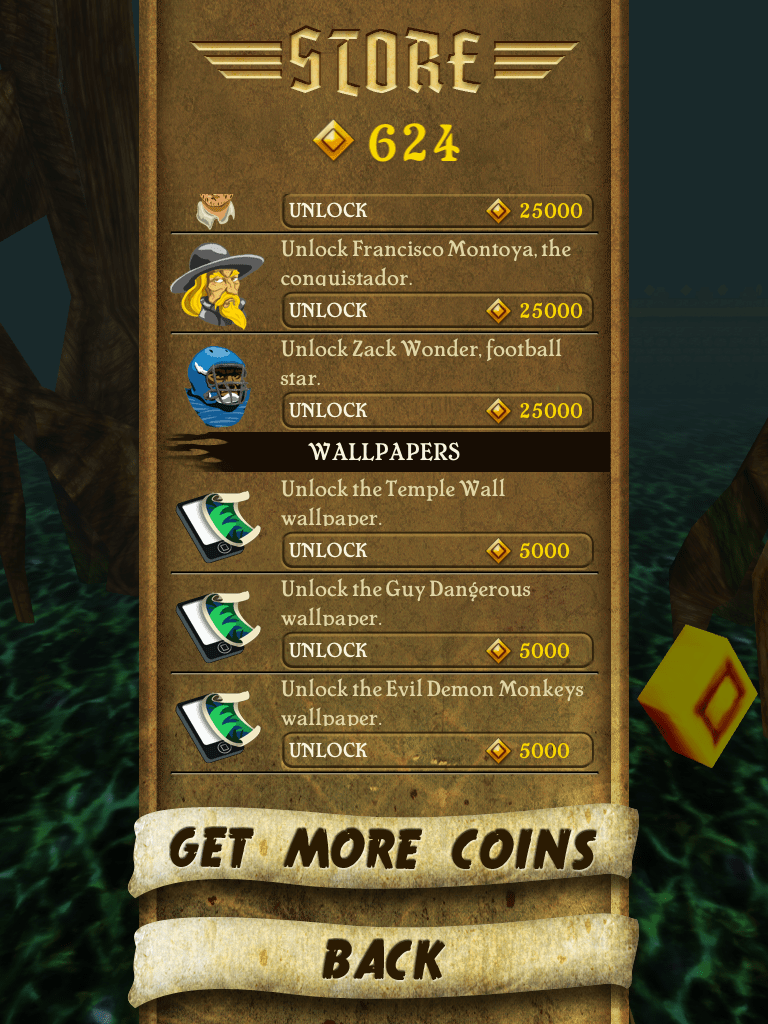 Weblinks: