The Nardio Review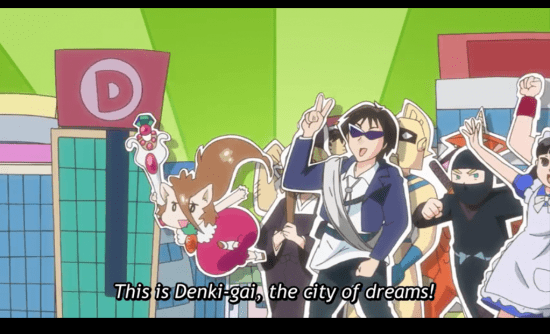 Is Denki-Gai Worth Your Time?
Yes. So much so I wished it were longer.
What Should I watch Denki-Gai On?
Currently the only place to legally stream Denki-gai is on Crunchyroll. I honestly have no problem supporting this service since you get a ton of other anime and dramas along with your subscription.
What Did You Think Without Spoiling It?
Denki-gai is a hilarious anime set in a bookshop that seems to specialize in hentai manga. You meet the motley crew of characters and really get to know them. You experience the blossoming of new relationships while also seeing other potential ones get sidelined. As funny as it can be at times there are some touching moments in there as well. It's a well-rounded anime that will keep you coming back each episode wondering what crazy thing will happen next.
Why it Works?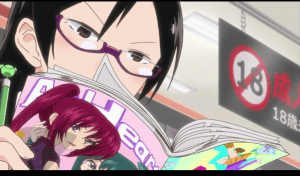 The best thing about Denki-gai is that it gives you a fun little peak into the world of manga, otakus and hentai. Almost every character in the series has some strange identifying trait. There's Fu-girl that has an obsession with zombies to the point where she'll fantasize about one of the co-workers as the perfect zombie. You know, that friend who helps others and then gets sacrificed to the horde. Another guy, the Sommelier, can perfectly match an ero-manga with anyone he meets. He also doesn't really speak much and somehow ends up shirtless and pants-less because he's a nice guy. In the beginning the entire cast seem a bit one-dimensional, but as the series continues you really get a good look at who they are and what makes them tick. The perfect girl (Tsumorin) turns out to be an alcoholic and still hung up on her ex. The shy camera girl (Kameko) regrets the fact that all she does is observe. You come to really identify with almost every one of the characters on some level or another. Yes, even when they turn into screaming, bawling babies – I'm looking atyou Sensei. And it's this genius combination of really lewd and hilarious comedy and actual heartfelt moments that make Denki-gai a great anime that you will rewatch several times over.
No Like?
I really wish it were longer. I wanted to see how the various relationships would progress. I also wasn't a big fan of the Fu-girl/Sommelier pairing just because she looks like she's 10 and he has to be at least in his 20s. It just seems…wrong.
Basic Info:
12 episodes
For an older audience