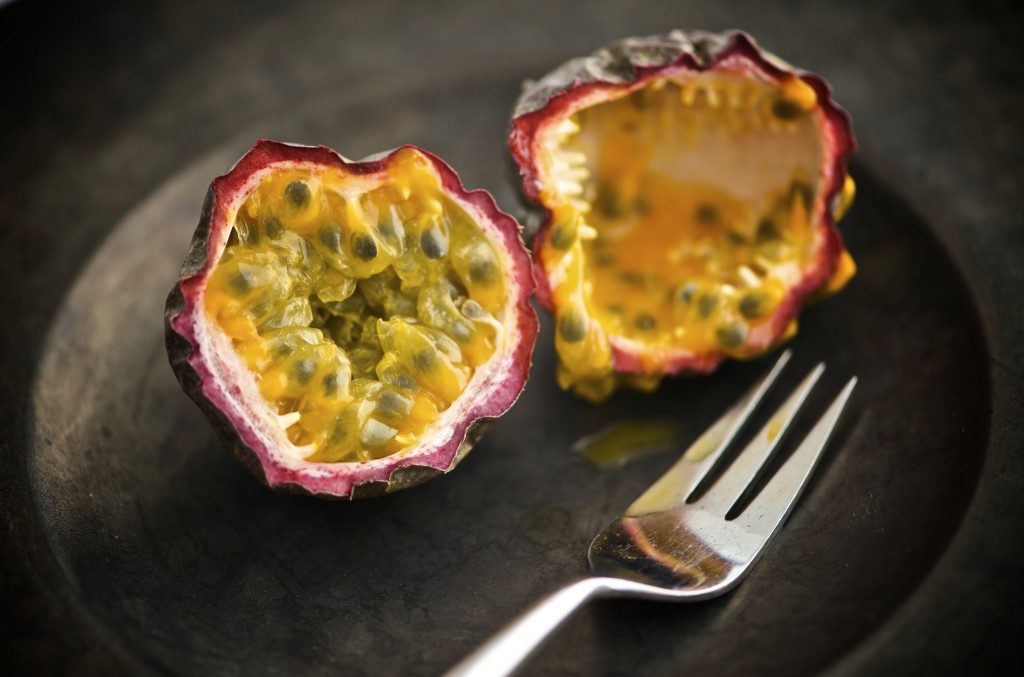 When I first heard of passion fruit, I was expecting the fruit to be a deep red color, you know, like the color of passion. Boy was I surprised when I saw it and then tasted it. I've come to really enjoy the flavor of passion fruit: it's sweet and a little tangy. I also love the color. It gives any drink a unique and vibrant twist. Combine that with the flavor and you've got a winning combination for a drink.
Passion Fruit Cosmo
Most people are familiar with the regular Cosmo as made famous by Sex in the City. This is a fun twist on the traditional cosmo. It's got most of the ingredients in a regular cosmo, just switch out the lime juice for passion fruit puree and you've got the recipe for a newer/improved cosmo.
Ingredients
1.5 oz citron vodka
.75 oz white cranberry juice
.75 oz triple sec
.75 oz passion fruit puree
.5 oz simple syrup
Equipment
Ice
Jigger
Cocktail shaker
Martini Glass
To make simple syrup: Mix together 1 cup of hot water and 1 cup of sugar. Mix until the sugar is completely dissolved. Don't just add sugar into the mojito as sugar doesn't really dissolve well in cold things. Simple syrup does not need to be stored in the fridge and can keep for a couple days.
Directions
Add all the ingredients into the bottom of the cocktail shaker
Fill with ice
Top the shaker and then shake vigorously for 3-5 seconds
Pour into a martini glass and enjoy!
Passion Fruit Rum Punch
The old rhyme goes, 'One of sour, two of sweet, three of strong, four of weak.' Most people are probably familiar with the overly sweet rum punch that you get at bars that come in a bright red color. Well this is definitely not going to be as sweet and will certainly knock you off your feet. The rum and passion fruit mix really well together. This recipe is based off the actual recipe in the West Indies.
Ingredients
0.5 oz fresh lime juice
1 oz simple syrup
1.5 oz gold/amber rum
2 oz passion fruit puree
4 dashes bitter
Equipment
Jigger
Cocktail shaker
Ice
Collins glass
ground nutmeg for garnish
Directions
Mix all ingredients into the shaker.
Top with ice.
Shake vigorously for 3-5 seconds.
Pour all contents into a collins glass
Garnish with a sprinkle of ground nutmeg and enjoy.
Passionini
No, not a martini, a different take on the traditional Bellini. Rather than using peach puree, try adding a little passion fruit puree to really make the champagne flavor pop.
Ingredients
1 oz passion fruit puree
4 oz prosecco or sparkling wine
Equipment
Champagne flute
Jigger
Edible flower for garnish
Directions
Pour the passion fruit puree into the empty champagne flute
Slowly pour the prosecco into the flute being careful not to overflow.
Garnish with edible flower. Enjoy!