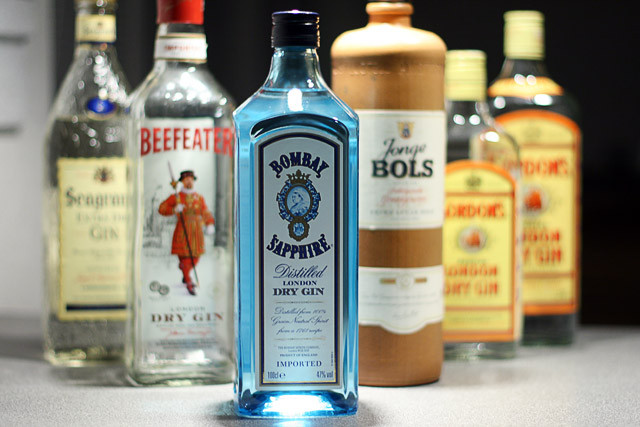 Don't let your peers scare you off of gin. It might be those horror stories that start with "So I was drinking gin" and end with "and somehow I ended up in jail." Don't believe them! Or maybe it's the strong taste and smell of juniper that turns you off…Don't fret. There's a gin-based drink for pretty much everyone. While gin will certainly impart its unique flavor on any drink you make, the interesting thing to do is to work that floral/grassy note in your favor.
The Ron J.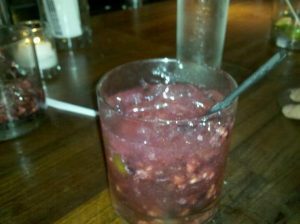 No, it's not named after Ron Jeremy. It's actually named after a patron that used to come to Delicatessen, where I worked as a bartender. One of our other regulars had a drink named after him, so naturally Ron wanted a specialty drink named for him as well. Something gin-based. Considering that it was the summertime, I figured something fruity would be great for the summer and complement the gin perfectly, and guess what? It did.
Ingredients
1.5 oz of Tanqueray
2 blackberries and 2 raspberries
2 wedges of lime
0.5 oz of simple syrup
0.75 oz of peach schnapps
Equipment
Muddler
Rocks Glass
Ice
Cocktail shaker
Jigger
To make simple syrup: Mix together 1 cup of hot water and 1 cup of sugar. Mix until the sugar is completely dissolved. Don't just add sugar into the mojito as sugar doesn't really dissolve well in cold things. Simple syrup does not need to be stored in the fridge and can keep for a couple days.
Instructions
Put the two blackberries, raspberries and lime wedges into the mixer and muddle until the berries are broken up.
Add the gin, simple syrup and peach schnapps.
Top with ice.
Shake vigorously for about 5 seconds
Pour into a rocks glass and enjoy!
St. French 75
I'm not really much of a champagne fan, but I'll definitely make an exception for something as refreshing as a French 75. The recipe generally calls for simple syrup or powdered sugar to sweeten up the drink, but I'm a much bigger fan of elderflower liquer like St. Germain. I think the subtle sweetness and floral note of St. Germain is an excellent partner to champagne and gin. Overall a delicious combination. I'm calling it the St. French 75 (get it, St. Germain?). Just be careful since this drink is almost all booze. It might taste good, but it'll knock you on your butt.
Ingredients
0.5 oz Dry Gin
0.5 oz St. Germain
0.25 oz fresh lemon juice
3.75 oz champagne
Equipment
Jigger
Champagne flute
Lemon twist garnish
Directions
Pour in gin, St. Germain and lemon juice into the champagne flute
Top with champagne
Garnish with lemon twist and enjoy!
 The Nardio
Ok, ok, so the drink is technically called the Bernardo, but come on, I couldn't resist. I've tweaked the recipe a bit so it tastes, well, better. I made the Bernardo for Bernardo, but he wasn't really a big fan of the original. I'm pretty sure he has a thing against gin. Anyway, here is the modified version that should be far more palatable.
Ingredients
1.5 oz of gin
1 oz of triple sec or grand marnier
0.5 0z of simple syrup
0.5 oz of lemon juice
0.75 oz of orange juice
Equipment
Jigger
Ice
Cocktail Shaker
Martini Glass
Lemon twist garnish
Directions
Add all the ingredients into the cocktail shaker.
Top with ice.
Shake well for 5 seconds
Strain into a martini glass
Garnish with lemon twist and enjoy!