Ascension Chronicle Of The Godslayer:
How I fell in love with a deck builder.
A little while ago on a date I stumbled upon a great place called the The Uncommons. Its a cafe/game room where you can get amazing coffee and tea, and/or pay 10 bucks for a pass to spend all day playing the board games the store has to offer. We tried a few games and then were introduced to Magic The Gathering. They even gave us some starter decks to start our addiction. Well we liked it a lot and bought a lot more cards. Unfortunately, it became stale because of the insane chance involved and total imbalance of our decks. Magic has since stayed on the shelf.
Later, we had another get together at The Uncommons with friends and tried a new game – Ascension Realms Unraveled. It was great. We kept the game simple, so we ignored the transform cards since we had no idea how they really worked and didn't want to spend too much time studying the game. After an hour or so and a few play throughs we all agreed we loved the game. Instead of rushing out this time we simply bought the Ascension starter pack.
For about eleven bucks you get a small starter pack of Ascension's base game for two people. We were hooked. More importantly we stayed hooked. Ascension is a deck building game where every player starts with an equal hand of base cards. Each turn players draw and use cards. We found the games to be way more balanced. While still luck based, since players start with the same cards and build from there we never really have to worry about things being lopsided or cheap.  Every once in a blue moon there will be a game where one of us is just dominating, but it's not that big of a deal because, again, it rarely happens.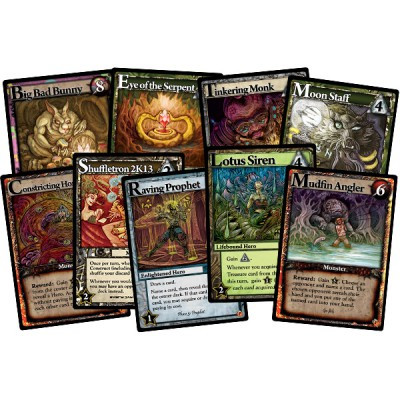 Soon after we invested in extra promo cards and theme packs directly from the creators (StoneBlade Entertainment) website.  Boom! Even more replay value added. The theme packs are great and really changed things up.  The promo cards were also insane.  One card basically ends the game, but in a fun way. Another has you dropping it from a foot in the air  and then acquiring or defeating whatever card it lands on.  Just good fun all around.
After a few months with these cards not only did we realize we should invest in protective sleeves we also discovered we wanted more. The base set. So we were waiting for an Amazon price drop. For a while it went from 31-50 dollars online. That was a little too rich for our blood, so we waited.  Then, all of a sudden, the game is back in stock on Amazon for 27-29 dollars. We were about to swoop in and then bam…We stumbled upon the collector's edition.
Recently StoneBlade Entertainment, the geniuses behind Ascension and its many expansions, created a fabulous Year One Collectors Edition.  This included the original base game, the first expansion game, all year one promo cards and the holiday theme card packs. Best of all, ALL of the cards were foil and a lot of the game art was redone.  It came with a color game manual and a custom collectors edition game board to play on all within the beautiful tin box.  It's a beautiful collection.  I wanted it badly, but the $99.99 price tag  was a little steep for me at the time. Don't get me wrong, it's totally worth it. I just couldn't afford it.
And yet here it was, mispriced at COST near us at a comic shop!  Just to be sure we walked over to a nearby Starbucks and checked the price online and found it was posted way cheaper than Amazon. We immediately ran over and bought it.  So for about fifty seven bucks we got the base game, the first expansion, the year one promo cards and the theme pack cards all in redone foil cards and an awesome metal case.
I was cheering like a kid on Christmas…So awesome.
You can get it for about $72 bucks on Amazon and I tell you it is totally, totally worth it.  I recommend you trust me and invest in the Year One C.E. of the game.  Trust me.  You can play this alone, with two people or up to six. A lot of games say they are good with two players, but most need more.  Not Ascension.  It's a great couples game.  Fast, fun and always different. Once again I cannot express just how awesome the foil cards look when you hold them.  Even in protective sleeves the cards just pop.  The updated art is cool to.
I'll have a review and maybe a play through video of it soon.  But for now, get this game.  I obviously love it and the review is going to reflect that.
Check out the Gallery below!
 [slideshow_deploy id='7581′]