Nardio Review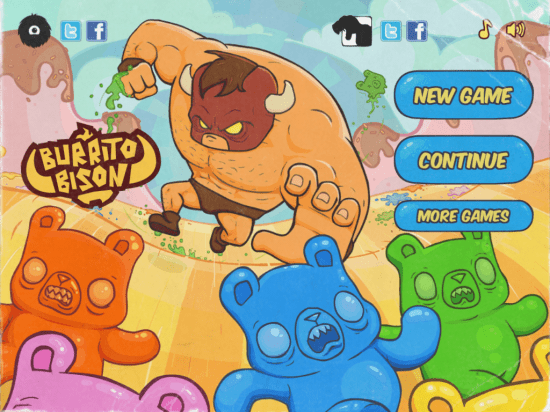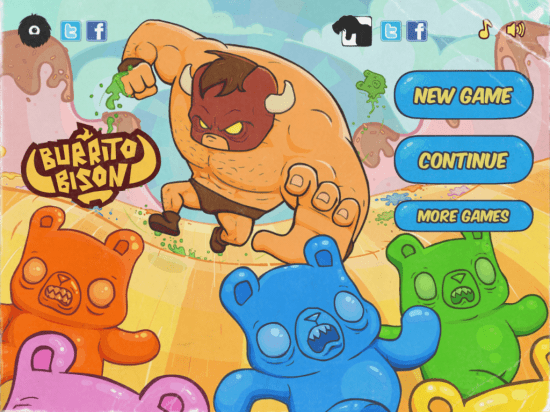 Is it worth your time?
YES
What should I play it on?
Burrito Bison plays perfectly on the iPad, iPod touch and the iPhone iOS 3.1 and later. You get the same great experience with all devices. As always I prefer gaming on my iPad 2.
What did you think without spoiling it?
Download this!
Burrito wha? Where did this come from? Who made this? Why is it so awesome? Burrito Bison is a very simple game, that mixes simplicity with chance, great music and a guy with a hairy chest. It's art design is like a Saturday morning cartoon, and the music is really epic. The point of Burrito Bison is to sling yourself into the air to propel yourself out of the gummy world.  The only way to do that is to keep up your momentum by crushing every gummy in your path.  Along the way you will pick up money that you can use towards making yourself fly faster, make more money and eventually break free of the gummy world.  It's so fun that you will gladly come back time and time again for more of that epic music and really fun gameplay.
For the perfect price of .99 cents you get: one tap (anywhere on the screen) controls, great cartoon-like graphics, fun sound effects, epic music and fun and perfectly controlled gameplay. I recommend buying this game.
How does it play?
The control for Burrito Bison is perfect. Character animations are funny and the reaction is spot on. I love the character progression through upgrades you earn with in-game currency.  Upgrades really give you the feeling of character progression.  I know I sound repetitive but sadly you really don't get that feeling with a lot of games these days. The best part is there are NO IN-APP PURCHASES!!! This game took Jas and I about three hours or so of on and off gameplay to  max out Burrito Bison.  It went from us never making it past the first area to speed running the game in one minute and twenty seven seconds. The best part is the game is just soo much darned fun that, yeah, you'll be able to beat it in under two minutes when you're are at max level, but it is so much fun that we both you'll find yourself going right back to it for another game and speed run.  (Jasmine kicks my butt in the speedruns…)
Why it works:
One touch, with no lag whatsoever to take away from the fun. Burrito Bison is what a good .99 cent game should be. The best part is that it's simple enough for anyone to pick up and learn but challenging enough that you will have to sit down and focus.
No like?
IT NEEDS AN ENDLESS MODE!!!!!
Yes, Burrito Bison is fun, but it's a bit on the short side.  The music is epic, and really, really engaging.  You really get the feeling that you are conquering those lil gummies and the speed you have when you really get going is just really fun.  Then, it's over…  You're just left wanting an endless mode.  Maybe some achievements that tell you how far in said mode you have made it.
A big annoyance for me is sometimes I can be going full speed and still not break through the last wall to end the game…Pretty annoying.  Another bother is that achievements don't save sometimes.  So you will get the same achievement like four times.   Also sometimes your high scores don't save right. Jas beat the game twice now around 1.27 minutes and for some reason both times the time didn't save.  (Maybe she is just too awesome for the game to handle?) But knowing that I still LOVE THIS GAME.
Speed running Burrito Bison is just fun.  Squishing those gummies with that epic music feels like I'm on some epic gummy conquering quest.  Burrito Bison is fun.  It's really, really fun.
I can't wait for a content update to this or a sequel.  Hopefully they keep out in-app purchases and I'll be a happy app addict.
Basic Info:
Price: .99 cents on the Apple App Store!
Worth: Perfectly priced
45 MB
1 player game.
No Ads!!!!!!!!!!!!!!
TONS of Replay value.
One save slot (You really don't need another)
Child friendly.
Universal App
Awesome flash game developer!! (check out their website below for more fun games)
Web links:
Developer: http://juicybeast.com/
Publisher: http://www.ravenousgames.com/
Apple App Store: https://itunes.apple.com/us/app/burrito-bison/id519781433?mt=8